It's hard to believe that the year is already over, but I'm definitely ready to move on to my next year of reading challenges! Since I already listed by top 10 books for the first half of the year (here), I decided to limit this list to the second half only. Even with that limitation in place, I still had a really hard time limiting myself to just 10 books. Part of the challenge was that I read quite a few books to finish off series that I had in progress, and it is hard for me to differentiate which book specifically was my favourite. When I called this my "year of series," I didn't realize that so many of the series would be read in the second half of the year! The one key thing that keeps coming back to me any time I reflect on 2018 is how terrible a job I did at balancing things out! Lucky for me, the one thing that I did manage to balance well was spreading out some of the best books throughout the whole year. As a side note, I am purposely excluding re-reads from this list, even though those were also some of the best books I read this year.
Top Ten Tuesday was created by The Broke and the Bookish in June of 2010 and was moved to That Artsy Reader Girl in January of 2018. It was born of a love of lists, a love of books, and a desire to bring bookish friends together.
1) Autoboyography by Christina Lauren
This was one of my most anticipated books for the year, and I'm so glad it lived up to all the hype! It is about a boy named Tanner who is enrolled in a writing seminar during his senior year of high school, where he must write an entire book by the end of the semester, and soon finds himself falling for Sebastian, a Mormon boy who is also the TA for the seminar. This book caught my attention from the first pages, and I was completely captivated throughout. I'm generally not a fan of books that have heavy religious themes, but I thought Christina Lauren did an amazing job of weaving Sebastian's Mormon faith into the story. I loved the character dynamics and the way that the story evolved, and it reminded me a bit of Simon vs. the Homo Sapiens Agenda in terms of the overall feel of the story. I completely devoured this book and even though it's been almost 6 months since I read it, it still stands out as one of my favourites of the whole year.
2) Starfish by Akemi Dawn Bowman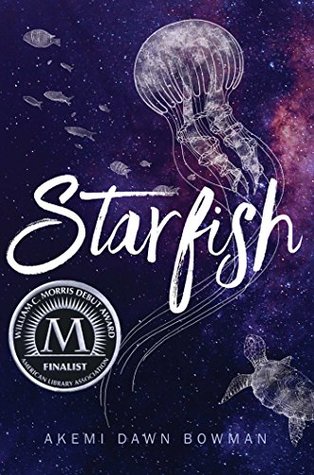 This was another of my most anticipated books for the year, and it by far exceeded my expectations. I commented earlier in the year this is an extremely underrated book and I really wish it got some more attention! I was drawn to this book immediately when I saw it on Goodreads due to the stunning cover art (despite the complete lack of starfish on the cover), and was so glad to finally read it. This book is about a biracial girl named Kiko who struggles with social anxiety and a very difficult relationship with her mother, including the fact that her mother allows Kiko's abusive uncle to come back and live with them. Kiko leaps at the opportunity to escape by touring art schools and trying to figure out her own future., I thought this was a very powerful book and I loved the way the author handled Kiko's story, and especially the social anxiety representation. This book made me immediately jump back onto Goodreads and search for any upcoming books by this author to add to my TBR!
3) Wires and Nerve and Gone Rogue by Marissa Meyer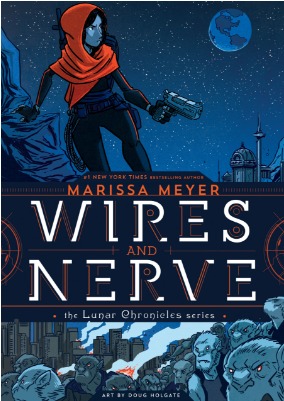 Like with many of the series I had in progress, I have a hard time separating out which of the books I read for each was my favourite, especially because I generally read the books back-to-back. Despite my initial hesitance to read it at all, The Lunar Chronicles became one of my favourite series and I was eager to pick up the graphic novel sequels that followed. These two books focused on Iko, Cinder's android best friend, as she attempts to hunt down the rogue wolf-soldiers who are threatening the already shaky peace between Earth and Luna. Considering these books were told in a completely different format from the original series, I thought these were an amazing sequel that captured the exact same feeling as the full-length novels. I loved that this pair allowed us to catch up with all our favourite characters, and i also really enjoyed the new additions. I thought the art style fit the series so well, and I'm glad I gave these books a chance!
4) Days of Blood and Starlight and Dreams of Gods and Monsters by Laini Taylor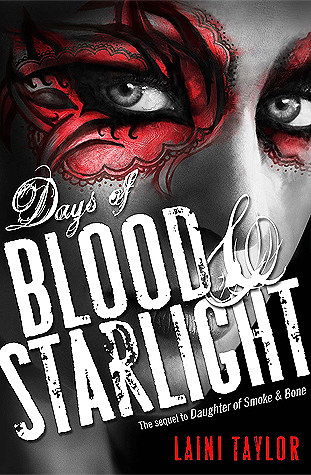 When I read Daughter of Smoke and Bone last year, I'd commented that although I loved it just as much as the other fantasy series I started, I felt that I always overlooked it when it came to picking a favourite. This year, reading these sequels (back-to-back, which was a ton of pages!) really brought home how beautifully written this series was. Of all the series I've read, this one is by far the most densely packed, so there was a ton of information to process! In a way, that makes these books a bit tougher to summarize but I thoroughly enjoyed them both as I read them and I especially loved Laini Taylor's brilliant characters. This is one of those series where it's tough to read the books in a row because there is so much to take in, but at the same time, each one leaves you wanting more and I didn't want to wait and forget details. I never pick up books that have to do with angels and demons, but this series was definitely worth making the exception.
5) A Court of Mist and Fury and A Court of Wings and Ruin by Sarah J. Maas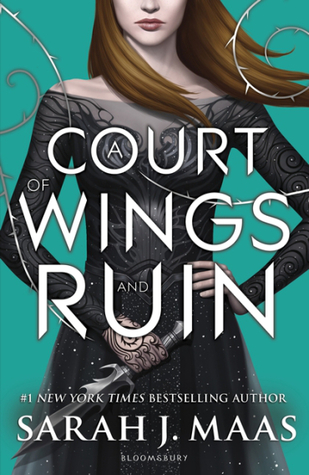 It may have been a slight mistake to read this pair so soon after I read Laini Taylor's books above, since both are very long and complex. A Court of Mist and Fury alone is one of my favourites of the year, but I picked up the next one immediately after finishing so I also essentially treat these two as one very long book. This was another series that I was hesitant to even try in the first place because stories about Fae and Faeries usually don't interest me much, but as soon as I read ACOTAR last year, I knew I had to continue. Although these books are both very long (over 600 pages each!), they kept my attention because they were so action-packed but also very character-driven. I loved finding out the backstories for so many of the characters, and I really loved the way the plot developed. It's rare that such long books will keep my attention for so long, so these were particularly impressive!
6) The Takedown by Corrie Wang
I can't even think of how many times I picked up this book at the bookstore to consider buying it, and ended up putting it down because it was a little too expensive. It was another of the books that I was most highly anticipating reading this year, and it definitely lived up to all the (self-imposed) hype! This book is about a teenage girl, Kyla, who is at the center of a scandal when a video goes viral of someone who appears to be her sleeping with her English teacher. Kyla is then faced with the impossible task of trying to get this video off the internet, and find out who posted it in the first place. I was a bit thrown off at first with this one since it was not quite the contemporary, typical high school setting that I expected. The book is set in the near-future, which technology has become even more advanced. It didn't take too long to get used to the setting though, and even though Kyla was an unlikable character, I was fully invested in her story. This book completed exceeded my expectations, and I'm so glad that I finally read it.
7) The Raven Cycle by Maggie Stiefvater 
When I read The Raven Boys last year, it immediately became one of my favourite books of the year, and I couldn't wait to read the rest of the series. I'm not entirely sure how that somehow translated into me waiting until November(!!) to finally pick up the last three, but all three were just as strong! If I had to choose just one favourite, I would probably have to say Blue Lily, Lily Blue but I honestly enjoyed all three of them. I adored the character dynamics between Blue and all of the boys, and also the friendship that the four boys had among themselves. I thought the series was beautifully written, although a tiny bit confusing at times, and it was so captivating. This is the one series that felt closest to Harry Potter to me in terms of the overall atmosphere while reading, and I think that has to do with the realistic but simultaneously magical setting. These are some of the strongest characters I've read in a long time, and I would love to read more about them.
8) Meddling Kids by Edgar Cantero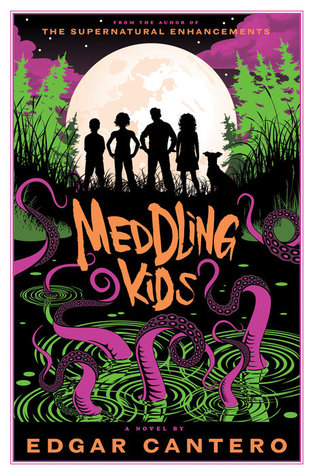 The second I saw the title of this book, I knew it was something that I had to pick up. Even though Scooby-Doo has never been a favourite of mine, it is always something that I ended up watching and enjoying, and I thought this book was such an interesting concept. This book focuses on four teenage detectives (and their dog) who went their separate ways after their last case in 1977. As adults, Andy decides to bring the group back together because she is convinced that their last case was never properly solved, and has to try and convince the others to join her and find out what really happened. I think it's really important for anyone who picks this book up to go into it expecting it to be similar to Scooby-Doo, but not an actual Scooby-Doo story. It's too easy to start trying to figure out which character corresponds with Fred, Daphne, Velma or Shaggy, but in reality, these are unique characters who just happen to follow the same kind of detective work. Once I got over the initial comparisons and started just reading the book as it was, I was captivated and thought it was so well done. The format is a bit weird in places, which can definitely put some readers off, but I ended up really enjoying that part of it too. I would recommend going into this one with an open mind, but it is worth it.
 9) Six of Crows by Leigh Bardugo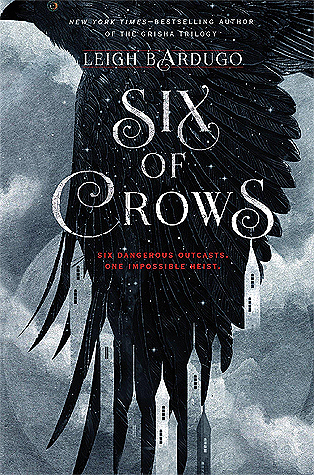 I'd been hearing about this duology non-stop for the past couple of years, but was never sure how much I really wanted to try it. As soon as I saw a challenge prompt this year calling for a book that involved a heist, I knew this would be the one. I even rearranged my plans a bit to fit in the Grisha trilogy first, and I'm so glad I did because I think it would be tough to understand some of the world-building without that background first. This book is about a criminal prodigy named Kaz who is offered a chance to pull off an extremely difficult heist, and has to pull together a team to help make it possible. The biggest highlight of this book for me was definitely the characters, and I loved how the author managed such a diverse and relatively large cast with ease. I absolutely adored the character dynamics and the way each one stood out as a fully developed person with their own history and personality. I enjoyed the Grisha trilogy as well, but this book was on a whole other level for me and I now can't wait to read Crooked Kingdom.
10) Vicious by V.E. Schwab
Anyone who has read my posts over the last few weeks must have known this book would make the final list, and its place here is well-deserved. Victoria (or V.E.) Schwab has become one of my favourite authors over the past two years because her books have such unique and interesting concepts, and are also executed brilliantly! I completely devoured this book when I first picked it up, and stayed up way too late to finish off the last few pages. It was worth it. I didn't even realize that this book was already 5 years old considering the sequel just came out, and that book is now at the very top of my priority list for 2019. This book is about two college roommates, Victor and Eli, whose experiments into humans developing extraordinary abilities take a dark turn, pitting them against each other. The characters in this book were fascinating and I can't wait to read more about all of them. I'm actually glad I waited to read this one, since it means I can now read the sequel soon after instead of having to wait 5 years!
Honourable Mentions: