I made a Top 5 Wednesday post very recently about my most anticipated books for the first half of the year, which included 5 of the books that are highest priority for me to read. At least three out of those five are already on my list to read this year, and I'm hoping to be able to squeeze in the other two as well. I thought at the time that there weren't too many books that I was super excited for, even though there were many that I wanted to read, but looking through my TBR today completely changed my mind. I have several pages full of new releases for this year already on my Goodreads list, and I'm very excited to read many of them soon! I'm not sure how many of these will actually end up being read within this year, but I hope to include a few more of them. I'm listing them here in chronological order, according to the date currently listed on Goodreads, but there is always the possibility that the release dates could change.
Top Ten Tuesday was created by The Broke and the Bookish in June of 2010 and was moved to That Artsy Reader Girl in January of 2018. It was born of a love of lists, a love of books, and a desire to bring bookish friends together.
1) In An Absent Dream by Seanan McGuire (January 8)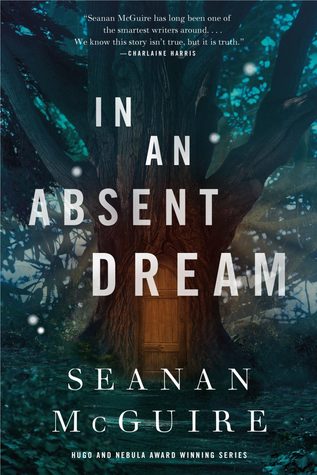 I have only read the first book in the Wayward Children series so far, but it is on my list for top priority series to catch up on within the year. I'm generally not a huge fan of novellas because I find that they end way too quickly, and I prefer more room for the characters and story to be developed, but this series started out so strongly that I just have to continue it. To be honest, I don't know much about what any of the books in the series after Every Heart a Doorway are about or which characters they follow, but I loved the first one so much that I wanted to find out what happened next. I've actually heard that this one is a prequel to the rest of the series, so I don't need to have read any of the others, but my intent is to read the series in the order that they were published. I assume it will be some time before I can get this one from the library, but it is one that I am definitely planning on reading before the end of 2019.
2) 99 Percent Mine by Sally Thorne (January 29)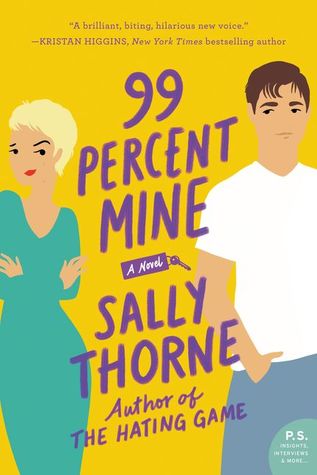 I won't spend too much time on this one because it is one that I feel like I've mentioned a lot recently, but it was definitely at the top of my list as soon as I saw that it was being released. I was very disappointed when Sally Thorne's expected second book, The Comfort Zone, was indefinitely shelved, but I'm glad we're getting this one soon. The Hating Game was a surprise favourite when I read it, especially because it is a kind of book that I very rarely read (and even more rarely actually love). I was immediately drawn into the story and the characters, and I'm hoping that this one will even somewhat come close to it. I'm doing my best not to build too much hype for myself around this one because I don't want to set myself up to be disappointed if it is not quite as good. This book is about a woman who is in love with her twin brother's best friend, but thinks he is off limits because of that friendship. It sounds like it will be a lot of fun to read, and I'm excited to try it.
3) The Love & Lies of Rukhsana Ali by Sabina Khan (January 29)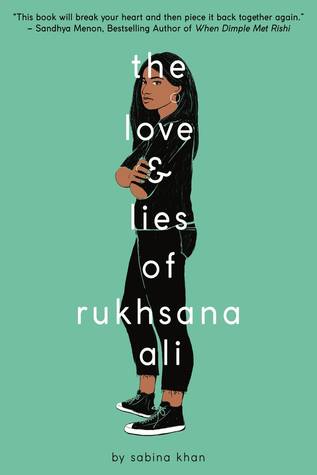 This is kind of a funny one because it's not necessarily a book that immediately comes to mind when I think of books that I'm anticipating, but every time I see it on my TBR, it reminds me that I really want to read it. This book is about a 17-year-old Muslim girl named Rukhsana who is struggling to live up to her parents' expectations, and can't wait to leave home to pursue her dream of becoming an engineer after she graduates. When her parents catch her kissing another girl, they decide to send her back to Bangladesh, where she is thrown into all the traditions of her culture, including arranged marriage, with only her grandmother's old diary to help her gain some perspective. I feel like there hasn't been a ton of buzz around this book yet, but it sounds like a very interesting story. I'm hoping to see some more reviews for this one after it is released, but it's definitely caught my attention.
4) The Winter Sister by Megan Collins (February 5)
I came across this book a couple of months ago while looking for more thrillers to add to my TBR, and it was one of the ones that stood out to me the most. It is about a woman named Sylvie whose sister Persephone was killed 16 years ago in an unsolved case. Sylvie has always blamed her sister's boyfriend at the time for the death, and is forced to deal with him again when she returns home to care for her estranged mother who has cancer, and attends the cancer center where Persephone's ex now works as a nurse. I seem to read a lot of books that have to do with family secrets and characters working to discover what really happened, so this one seems right up my alley. The early reviews for this one so far have already been quite strong, which is promising especially because this book is the author's debut. I'm not sure if I'll be able to squeeze this one in this year, but it seems like a very intriguing story.
5) You Asked for Perfect by Laura Silverman (March 5)
This book caught my attention because of the focus on academic pressure, which is a topic that I don't see enough in books aside from the typical "I'm stressed about getting into college" storyline. It is about a high school senior named Ariel Stone who should be the perfect college applicant, until he fails a Calculus quiz and feels the pressure to preserver his place at the top of the class. As his grades continue to drop, he hires Amir to tutor him, and soon develops feelings for him, even though a relationship would be one commitment too many with the amount of pressure he is already facing. I've only read one other book that deals with a high-achieving protagonist who faces a lot of academic pressure (mostly self-imposed, in that case), and that book (Enter Title Here by Rahul Kanakia) quickly became one of my favourites because of the way it handled the topic. It is a topic that I would love to see more often in books, so I'm excited to give this one a try.
6) Quarantine: A Love Story by Katie Cicatelli-Kuc (March 26)
This book caught my attention immediately because of the cover art, and the unique concept. It is about a boy named Oliver who is volunteering over Spring Break in the Dominican Republic, but all he wants to do is get back home to the girl who might become his girlfriend. At the same time, Flora just wants to get out of the Dominican Republic, where she spent a miserable trip visiting her dad and new stepmom. In their rush to get home, Flora somehow manages to land the two of them in quarantine together for 30 days, and when feelings develop for each other, they need to figure out if it can be real love or just the effect of being in close contact alone for so long. I generally enjoy YA contemporary romances, but I always prefer stories that have some kind of unique or different angle to them, and this one definitely delivers. It sounds like it will be such a fun story to read and I'm very interested in seeing how the characters interact given their unusual situation.
7) This Train is Being Held by Ismee Amiel Williams (April 9)
I found this book while browsing late last year for new and upcoming releases, and for some reason the cover really drew my interest. It is about a private school student named Isabelle who meets a Dominican-American boy name Alex on the train, and the two of them meet repeatedly on the subway over the next three years, where they form a strong bond. There still isn't very much information available about this one since it is quite a while until the release date, but it sounds like it could be a really cute story. I think I've read a few books that have this kind of "chance encounters" trope, and it's something that I tend to enjoy. As I mentioned above, I'm all for YA books that have something a little different about them, and this one seems a little more unique. I'm looking forward to finding out more about it as the release date gets closer. The only thing that slightly concerns me about this one is that I've already seen it compared to Jenny Han and Sarah Dessen, and while I like both authors, I find their books tend to be aimed toward a bit younger of an audience, which often makes it harder for me to relate to the characters. I'm hoping that won't be the case here since it seems like such a great premise.
8) The Bride Test by Helen Hoang (May 7)
I haven't even read The Kiss Quotient yet, and I'm already highly anticipating this follow-up. The Kiss Quotient is at the top of my list for this year, but I'm not sure if I'll be able to fit this one into my plan too. This book is about a man named Khai Diep who has autism, and whose mother decides to visit Vietnam to find him a wife. When Esme is given the chance to come to America to meet a potential husband, she jumps at the chance to go and meet Khai, but soon becomes convinced that he will never return her affection, even as she grows to love him. I didn't even realize until just now that this book was about a character with autism, and that only makes me anticipate this book even more. I work in a day program with adults with autism and other disabilities, so I'm always interested in seeing autism representation in books. This one sounds like it may be a little along the lines of The Rosie Project, which I really loved, and I can't wait to give this one a try.
9) Love from A to Z by S.K. Ali (May 7)
This is another book by an author that I haven't even read yet. I intended to read Saints and Misfits last year, but ended up running out of time. I will be reading it before the end of this month, and I'm hoping to love it because this book sounds really great too! This book is about a girl named Zayneb who is the only Muslim student in her class, and decides to go to her aunt's house in Qatar after getting suspended for confronting her teacher. Zayneb decides to take her time a way to try being a "nicer" version of herself. While there, she crosses paths with a boy named Adam, who was recently diagnosed with multiple sclerosis, although he is trying to keep this a secret from his grieving father while keeping the memory of his mother alive for his younger sister.  I love how this book seems to have a couple of layers to it beyond the typical YA romance, which seems to be a lot more common with books published recently. I was very excited to read Saints and Misfits, and disappointed that I didn't get to it in time last year, so I'm hoping to love it enough that this one will still be so highly anticipated.
10) With the Fire On High by Elizabeth Acevdeo (May 7) and If It Makes You Happy by Claire Kann (June 4)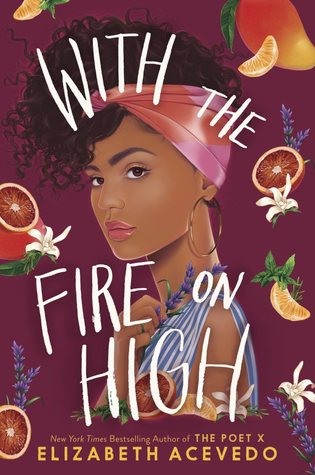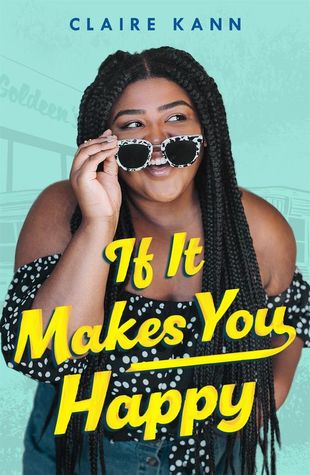 I'm grouping these two together because they have a couple of themes in common. I have not read anything by Elizabeth Acevedo yet, but The Poet X is high on my priority list for this year. I read Claire Kann's debut Let's Talk About Love last year and I really enjoyed it, although I didn't quite love it as much as I expected. Both of these books focus on teenage girls who have a strong interest in cooking, and who have a strong relationship with their grandmothers. In With the Fire On High, the main character Emoni is a teenage mother who lives with her grandmother, and dreams of working as a chef when she graduates. In If It Makes You Happy, Winnie is a high school graduate working at her grandmother's diner. Winnie is fat and is tired of everyone trying to give her weight loss advice, and she wants to enter a televised cooking competition to save money to make sure her grandmother's diner can stay open, even though her grandmother does not want her to participate. I doubt I'll be getting to either of these this year, but they both sound like great stories and I'd love to eventually give them a chance.