I often find that the there is a huge difference between my worst books of the year and my most disappointing books. The ones that disappoint me most are often books that I still end up really enjoying, but nowhere near as much as I expect. After doing reading challenges for several years now, I've become pretty good at assessing which books I'm going to enjoy. There are always a few that I think I'll like much more than I actually do, and some that end up really surprising me. When I look back at my books from last year, I realized that most of the handful of books that I rated only three stars were books that I didn't really expect to like very much anyway, so I wouldn't really consider them disappointing. Instead, there were another handful of books that I thought would be easy 5 star reads, but I ended up a bit disappointed.
Top 5 Wednesday is a meme created by Gingerreadslainey on Youtube, and is now hosted by Sam at ThoughtsOnTomes. The official GoodReads group with the weekly topics can be found here.
1) 36 Questions That Changed My Mind About You by Vicki Grant
This was the only book comes from the 3-star list. I wasn't really expecting this one to be a 5-star read to begin with, but I thought it would be easily at least a 4. Unfortunately, I was completely disappointed by this one. It is about two teenagers, Hildy and Paul, who are randomly assigned as partners as part of a psychological study where they must ask each other 36 questions from a prearranged list to get to know each other, and the questions must be answered honestly. The purpose of the study is to see whether these questions can facilitate a relationship between two complete strangers. I absolutely loved the concept of this book. I have a psychology degree myself, and I remember reading about this kind of study, possibly even this exact one, as part of my classes. I was very disappointed to find that I did not like anything about the story aside from the basic premise. For some reason, I kept forgetting that the characters were only 18, even though it was clearly mentioned at the beginning. I kept assuming they were much older (early to mid-20s, possibly) and then wondering why they seemed so immature. I also found it annoying that the characters kept dropping vague hints about topics that they were unwilling to talk about. Although it was understandable given that they were strangers, by the time the details were revealed, I'd lost complete interest in the characters. I also could not buy into the relationship that developed between Paul and Hildy at all, since they had so little chemistry and seemed like a terrible fit for each other. This was definitely my most disappointing read of the year since I expected to love it based on the premise alone.
2) The Last Anniversary by Liane Moriarty
Big Little Lies is one of my favourite books, and I've been making my way through all of Liane Moriarty's others over the past few years. I've really enjoyed all of them, but I was a bit apprehensive about this one because it was one of her earlier books and I find most authors change quite a bit over time. This one is about a woman named Sophie who inherits a house from her ex-boyfriend's deceased aunt, which is also the site of a decades-long mystery about a baby whose parents have gone missing. While I liked the general storyline, I found that I just couldn't get into this one at all. There were a lot of characters to keep track of, and since most of them were related to each other, I would have loved if there was some kind of family tree included to help keep all the names straight. I usually don't have too much problem keeping track of characters, but I was constantly lost with this one and found that really frustrating. I liked the mystery and the explanation toward the end of what actually happened, but I found the process of reading this one frustrating because I was often bored or completely confused. Even though I ended up giving it a 4 because of the storyline and the few character arcs that I liked, I didn't enjoy this one as much as I hoped.
3) Almost Like Being in Love by Steve Kluger
To be honest, I can't even remember why I had such high expectations for this book, but I was convinced it would be an easy 5-star read. It was about two young men, Travis and Craig, who fall in love during their last year of high school but split up. After 20 years apart, Travis realizes that he still has feelings for Craig and decides to search for him, only to learn that Craig has been in a serious relationship for the past decade. I think what drew me to this book is that it was told in the format of letters, journal entries, etc. which is a style I tend to really enjoy. I really liked the characters in this book, especially how the author didn't make Craig's new partner into the automatic villain like many books do with this kind of storyline.  In general, I really liked the way both relationships were treated, and thought they were both very realistic. However, I was a bit disappointed that this book didn't draw me in nearly as much as I expected. I found the format a bit confusing in places, which made a few parts of the story a bit hard to follow. It definitely wasn't a bad book, but I expected it to be 5 stars, and it didn't quite make it there.
4) The List by Patricia Forde
 I think this may be my most disappointing of all my 4-star reads because I had such high expectations for it. In a way, I think it was my own fault that I didn't enjoy it as much as I thought because I read it in a month where I'd somehow ended up with multiple back-to-back YA fantasy books, and this one just didn't stand out from the crowd. This book is about a wordsmith's apprentice named Letta who lives in a world where people are only allowed to speak List, a language consisting of just 500 words. When Letta's master disappears, she meets a stranger who shows her that there is more going on with List than she realizes, especially as more and more words are starting to get cut out. I thought the setting and the concept were both fascinating, but the story felt very underdeveloped a bit scattered without enough attention given to parts that I thought were most interesting. I found the first half very engaging, but the story lost my interest toward the end because Letta wasn't the most compelling main character. I'm tempted to revisit this book at some point in the (distant) future and give it another chance because I still think it's something I could enjoy, if I wasn't reading too many other similar books around the same time. As it was though, I found myself underwhelmed.
5) Of Fire and Stars by Audrey Coulthurst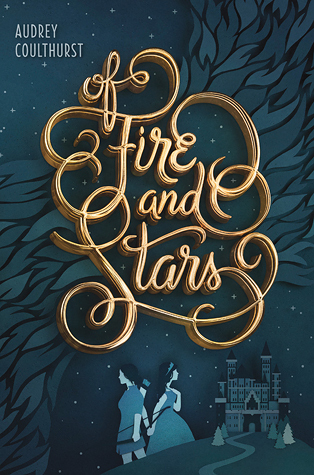 This one was another huge disappointment after I'd heard so many great things about it, especially from CeCe at ProblemsOfaBookNerd, which is one of my favourite Youtube channels to get recommendations from. It is about a princess named Denna who is betrothed to marry a prince in order to secure an alliance between their lands, but she falls in love with the prince's sister instead. I absolutely loved the concept of this story, but I didn't like the way it was executed because the world-building was on the weak side. That's not usually something that bothers me too much, and it is another one I may want to revisit in the future since I also read it in that month where I was feeling a little burnt out on too many similar books. I wanted more background about the different kingdoms, and especially about people's attitudes toward magic. I can generally just accept that things are the way they are in a book as long as there is even a minimal explanation given, but I didn't feel like this book even had that. I liked the relationship that developed between Denna and Mare, the prince's sister, and although they were both interesting, I found the side characters sadly underdeveloped. This book frustrated me because it was just good when it could have been amazing!