I feel like there have been quite a few topics recently that have led to listing my top priority books for the year. In mid-December, I had a Top 10 Tuesday post about the 10 books that were at the top of my list and I also included a list of my top top priority standalones in my post about my 2019 goals. Usually I don't like when I have too many similar topics so close together because it feels a bit repetitive, but I was excited to see this one so I could talk about some more of the books that I'm very excited to read! I will do my best not to repeat any from the previous lists I already made, but these are top of the list for a reason. I think this topic also relates quite strongly to my most anticipated books of the year, but I tend to gear that one more toward new releases that I'm waiting for. I consider this post more of a continuation than a separate list. Even then, it was a huge struggle to narrow this list down to just 5 because I kept coming up with more and more books that were at the top of my list.
Top 5 Wednesday is a meme created by Gingerreadslainey on Youtube, and is now hosted by Sam at ThoughtsOnTomes. The official GoodReads group with the weekly topics can be found here.
1) Spinning Silver by Naomi Novik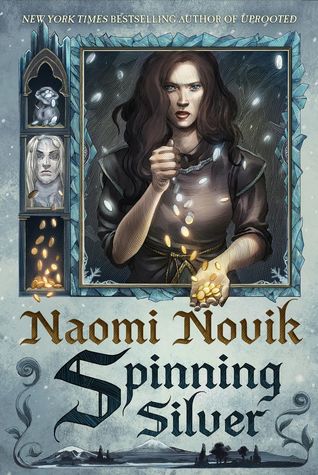 I'm kind of surprised that I haven't mentioned this one too much yet, but it is definitely at the top of my list for this year! I absolutely loved Uprooted when I read it in 2017, so I was very excited to see something new by Naomi Novik. I know she has quite a few other books out as part of a series, but I'm not sure if I'm interested in those. This book is a Rumplestiltskin retelling, which is a fairy tale that I've always enjoyed. It is about a girl named Miryem who sets out to collect the money that the other villagers owe her father, and who has a talent for turning silver to gold, which attracts the attention of Staryk, a brutal winter fairy king who wants to use her ability to his advantage. I think this books sounds incredibly interesting and I'm  hoping it is along the same lines as Uprooted. I have seen so many excellent reviews for this one, but also a couple of complaints: some reviewers have called it slow-paced, and many have said that there are multiple perspectives that are not clearly indicated, which both might be a bit off-putting for me. However, the plot of this one sounds very interesting and I'm looking forward to giving it a try.
2) The Wife Between Us by Greer Hendricks and Sarah Pekkanen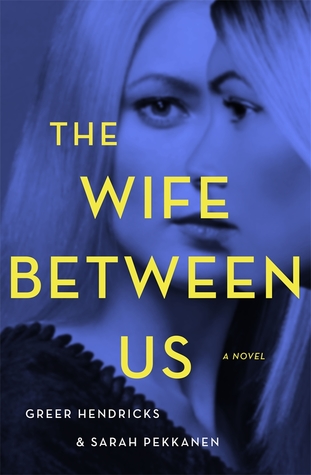 One of my goals for the year is to read more thrillers in general, and this is one that is very high up there on my list. Like many thrillers, the Goodreads synopsis is incredibly vague and I'm hesitant to read too many reviews to find out more because I don't want to see any spoilers. From what I can gather, this book is about a woman who becomes obsessed with the younger woman that her husband left her for, but with many twists. I have seen this book absolutely everywhere recently, and although the reviews have been a bit mixed, the majority of what I have seen has been very positive. I love thrillers in general, but it is rare that I find one that I really love and that genuinely shocks me. I'm hoping that this will become a new favourite, and it is one that I'm really looking forward to reading this year. I've already added Greer Hendricks and Sarah Pekannen's next book, An Anonymous Girl, to my TBR although I don't think I will be getting to that one within the year. Depending how much I enjoy this one, I may just have to shift things around to squeeze it in.
3) The Perfect Mother by Aimee Malloy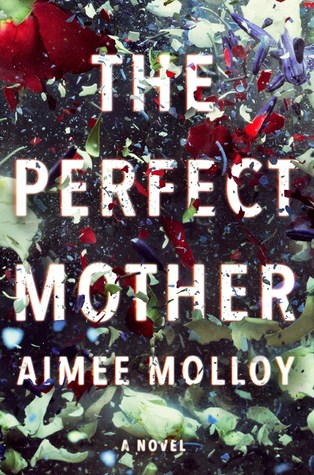 This is another thriller that I'm really excited for, and it was one of the first books that I added to my list when I started planning for my 2019 challenges. This book is about a group of women who call themselves the May Mothers because they are all new moms who gave birth in May, and they meet twice a week to support each other and share their experiences as new parents. When the group agrees to meet for drinks one night, Winnie's six-week-old son goes missing. Three of the other mothers in the group decide to go to any lengths to help her find her son, as the police and the media begin to dig into Winnie's personal life, and soon start to scrutinize the other women as well. This book sounds like a very intriguing thriller, and I'm excited to try it for myself. I would have loved to read it in 2018, but by the time it was released, I couldn't a place to fit it into my challenges and had no room for any extras. I am already looking forward to finally reading this one for myself, and I hope it lives up to all the hype I've seen surrounding it!
4) Other People's Houses by Abbi Waxman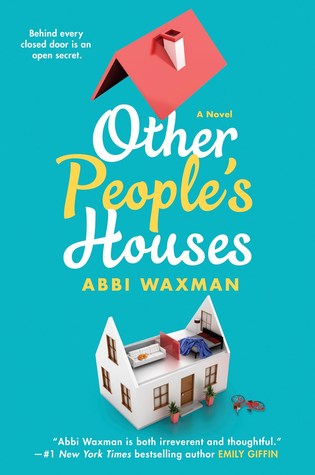 Every so often, there is a book on my TBR that just grabs my attention and moves all the way up to the top of my list, for no apparent reason. This book quickly became one of those, ever since I first found it on Goodreads back in May. This book is about a woman named Frances who is part of a local carpool, which allows her to find out way too much about the other families in her neighbourhood. When Frances witnesses another woman having an affair, she decides to just mind her own business, but that becomes impossible when the woman's husband throws her out, with repercussions that affect everyone involved in the carpool.  I'm finding that a lot of adult contemporary books that have to do with family secrets or character dynamics in general have become very appealing to me, although I'm not always such a fan of the way they are executed. This one sounded like an intriguing storyline, and I was especially interested in the carpool angle that felt a tiny bit more unique. I'm very curious to see how one neighbour's affair can have such a huge impact on everyone else in the carpool. I have no idea how this book made it to the top of my TBR, but now I'm very excited to try it.
5) The Giant Days series by John Allison
I've been hearing about this series for quite a while, and I finally decided to prioritize it this year. Part of the reason I really wanted to try it is because it is a series of graphic novels, which I thought would be a great counterbalance to the many longer books that I have on my list, but mostly it was because I've heard such great things about it. It's only really in the past year or two that I've really started to read graphic novels, and this is a series that I've been meaning to read because of how often it's come up when I look for graphic novel recommendations. I'm actually a bit confused about how many books there are in total. I thought there were 10, but I'm only seeing up to #9 on Goodreads, due out in February, at least for the collected editions (so if anyone knows for sure, please let me know so I can adjust my plans accordingly). This series is about three girls, Susan, Daisy and Esther who quickly became friends when they started university, and all are hoping to reinvent themselves now that they are away from home for the first time. I've only seen a preview of the first one so far, and I loved the art style and the small amount of the story that I saw. I'm really looking forward to trying this series!