I always love this kind of topic. For some reason, I find it a lot more fun to write about the books that I'm interested in reading than the books I've already read. I think I just have a really hard time commenting on books I've read without giving spoilers or being too repetitive ("interesting" seems to be the one word that I overuse the most). My initial intent was to use this prompt instead of my usual monthly Stacking the Shelves post, but I've added so many books that I might end up doing both anyway! I actually didn't feel like I'd added too many books to my TBR lately, so I was a bit surprised to realize that I'd added just under 100 since the beginning of January! I cheated a bit and looked at other people's posts before making this one of my own, so I ended up adding about 25 new books to my TBR today alone. I decided for the sake of fairness to only include the last 10 books I added before my TBR-spree today. I also "blame" BookBub for most of my recent additions. It is a site that I've only really discovered recently, and they give tons of lists of recommendations! I think it's safe to say my TBR is now completely out of hand.
Top Ten Tuesday was created by The Broke and the Bookish in June of 2010 and was moved to That Artsy Reader Girl in January of 2018. It was born of a love of lists, a love of books, and a desire to bring bookish friends together.
1) These Shallow Graves by Jennifer Donnelly
I found this book just yesterday, and the creepy cover immediately grabbed my attention. This book is a YA historical fiction mystery set in 1890s New York about a wealthy young woman named Jo Montfort, who wants to be a newspaper reporter, but is expected to be married off to a rich bachelor instead. When Jo's father is found dead, it appears that he committed suicide but Jo is sure that there is something more to his death. She meets Eddie, the young reporter from her father's newspaper, who decides to help her investigate her father's death and find out what had really happened. I mentioned in a recent post that historical fiction and mystery are both genres that I tend to enjoy, but don't pick up very often. I haven't read too many books that combine both genres, but this one sounds very intriguing. I'd never heard of this book until this week, so I was surprised to see that it had quite high ratings from several of the reviewers that I follow. I'm not sure this book is particularly high on my priority list, but I'm definitely interested in trying it.
2) Half of What You Hear by Kristyn Kusek Lewis
This was another book that I found a couple of days ago, and I think it drew my attention because the cover reminded me of another book that I will be reading very soon (The People at Number 9). I was especially sold on it when it was compared to Liane Moriarty, whose books I tend to love. This book is about a woman named Bess who moves to her husband Cole's small hometown, across the street from her mother-in-law, after losing her job at the White House due to a scandal. Bess assumes the small town will mean a simple life for her and her family, but she soon realizes that it is harder to fit in than she imagines and the town is harbouring some secrets, especially when Susannah Lane returns after a decades-long suspicious absence. With the opportunity to write an article for a lifestyle section of a newspaper, Bess decides to interview Susannah and starts to uncover some of the secrets about her and about the town in general. I find I've been more and more drawn to this kind of story over the past couple of years. This one definitely seems to be along the lines of a Liane Moriarty book, and I'd love to give it a chance.
3) The Secrets of Paper and Ink by Lindsay Harrel and The Printed Letter Bookshop by Katherine Reay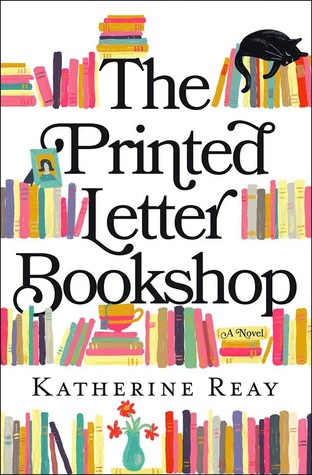 I'm grouping these two together because I found them both on BookBub at the same time while browsing lists of recommendations. I'm a tiny bit apprehensive about The Secrets of Ink and Paper because I've just noticed that it is tagged as Christian fiction, which is a genre that just isn't for me. It is about a woman named Sophia who moves to Cornwall, England a year after the death of her abusive fiance, and rents a place on the condition that she works at the bookstore underneath it, and another woman named Ginny who wants to save the bookstore that she co-owns with her husband. Together, these two discover the 200-year-old letters and journals of Emily Fairfax, a governess who wanted to be a published author, and they try to find out more about this woman. The plot does sound interesting enough to keep on my TBR for now, but I'm hoping the religious content isn't too strong since that is what usually puts me off. The Printed Letter Bookshop is about an attorney named Madeline who inherits her aunt's bookstore in a small town, and decides to quit her job after being passed over for promotion, and work at the bookstore instead to prepare it for sale, quickly finding herself at odds with the other employees who love the bookstore and want to keep it alive. I tend to like books that have to do with bookstores and reading, so I'm hoping that I will enjoy these as well.
4) The Right Swipe by Alisha Rai
As much as I tend to say that I don't read romances very often, I seem to be adding more and more of them to my TBR. This book is about a woman named Rhiannon who creates a new dating app and soon finds herself attracted to a former pro-football player, Samson, who happens to be in league with one of her business rivals.  Ever since I tried reading The Hating Game, I've started to be a bit more open to reading these kinds of books. This one put me off a bit at first because of the football aspect, since I'm not a fan of sports at all and tend to find it boring to read about them. It also didn't help that I took a look on Goodreads to see what else this author has written, and saw a ton of the kinds of romance/erotica books that I actively avoid. This book is not due out until early July of this year, so I may wait a bit and see what I think when there is a preview available or at least when more reviews come in. I'm still interested enough to give me a chance, but I'm definitely pretty wary about if this is really the kind of romance book I would like.
5) Miracle Creek by Angie Kim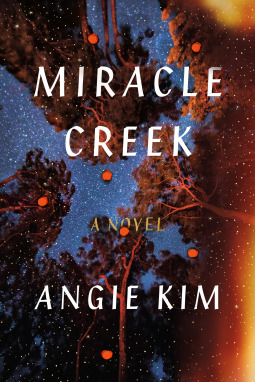 This was another book that I discovered through BookBub, which has been compared to Liane Moriarty and Celeste Ng. It is about a Korean immigrant family who run an experimental treatment involving a pressurized oxygen chamber that is meant to cure issues including autism and infertility. When the oxygen chamber mysteriously explodes, killing two people, the family becomes embroiled in a murder trial to discover who or what caused the explosion. The suspects include the couple themselves under suspicion of cashing in on the insurance to send their daughter to college, and the single mother whose young autistic son died in the blast. I've heard about oxygen pressure chambers as a treatment for autism, but I don't know very much about them. I'm very interested to see how the author handles this kind of story and it sounds like exactly the kind of courtroom drama that I tend to love. There are so many different elements and potential controversies involved here, so I'd love to see how they all come together. The early reviews on Goodreads so far have been amazing, but this book does not come out until April!
6) The Last by Hanna Jameson
This book is definitely a bit more outside my comfort zone, but it sounds very intriguing. It has been dubbed a "dystopian psychological thriller" which is not a combination that I've ever seen before. It is about a historian named Jon Keller who is on a trip to Switzerland when the world ends, with news coming in that nuclear weapons have detonated in major cities all over the world. With only 20 people remaining in his hotel, there is nothing they can do except wait. When the body of a young girl is found, it seems obvious that she has been murdered, which means that someone in the hotel is the killer. Jon decides to investigate her death, but doesn't know what kind of justice to expect now that the world has fallen apart. It sounds like such a fascinating concept, although I was a little disappointed to see that the book is relatively short, with just under 300 pages! It seems like a lot going on for such a short book, but I'm very interested by the topic. I haven't read many (or possibly even any) adult dystopians, but I love thrillers so I'm excited to see how the two genres blend.
7) The Wartime Sisters by Lynda Cohen Loigman
I found this one on BookBub's list of upcoming historical fiction, and it interested me because it reminded me a tiny bit of Kristin Hannah's The Nightingale. Like The Nightingale, this is about two sisters during WWII who have very different roles. One sister lives on the Armory Campus as an officer's wife, and the other is a war widow who becomes a "soldier of production" making things for the war. One of the things I loved most about The Nightingale was the way that it showed how the war affected the civilians who were left behind, and the profound impact it had on everyday life. Although we know that a war must have had an effect on everything, I think it's sometimes really hard to imagine what it must have been like for the people trying to live their daily lives while the soldiers were fighting. In this book, the focus is on the relationship between the two estranged sisters, Ruth and Millie, who are brought back together because of the war. From what I can gather, this story focuses mostly on the character dynamics, which definitely seems appealing to me.
8) The Tattooist of Auschwitz by Heather Morris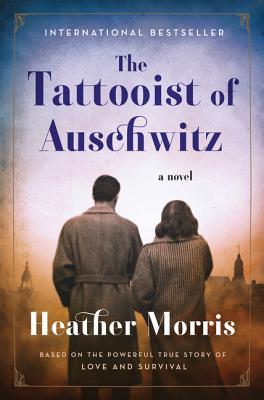 I only added this one to my TBR very recently, although I've been considering it for quite a while, especially after someone at work recommended it to me. For a long time, I was feeling pretty burnt out on stories about WWII/The Holocaust, but I've heard such great things about this one that I thought it was worth a try eventually. It is based on a true story about a Jewish man named Lale Sokolov, who is assigned the task of tattooing the numbers on the other prisoners at the concentration camp. Over the years that he is kept there, he witnesses all the atrocities and does what he can to help keep the other prisoners alive, using the privileges he gains from the role he has been assigned, at great risk to his own life. In 1942, he comforts a young woman, Gita, who is waiting in line to be tattooed, and from the time of their first meeting, he vows that he will survive and marry her. I think part of what appeals to me about this story is that it is a Holocaust story that comes from a slightly different angle, and also because Lale Sokolov was a real person and this story is based on true events of his life. The only reason I'm hesitant to try it is because I've seen many reviews complaining that while the story was excellent, the writing wasn't so good. I'm hoping I have a better impression of it when I try it for myself.
9) Where the Crawdads Sing by Delia Owens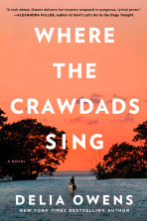 This is another one that I'd debated adding for quite a while, after seeing it literally everywhere. The book is about a young woman named Kya who grew up in the marshes near Barkley Cove, earning her the reputation of "The Marsh Girl." Left behind by her mother and siblings who escape her abusive father, Kya is left mostly on her own, living mostly as an outcast until she catches the attention of two men in town. When one of those men turns up dead in the marshes, Kya quickly becomes the prime suspect, putting the life she has struggled to keep together at risk. When I first heard about this book, I wasn't especially interested because the synopsis on Goodreads seemed so vague, but the more I learned about it, the more it appealed to me. I'm always a little hesitant with books that are as hyped as this one is, but so far I've seen nothing but rave reviews. I feel like this may end up being one of those books that I keep putting off until the hype dies down, although I've been learning over the past couple of years that sometimes all that hype really is worth it.
10) Between the Lies by Michelle Adams
To be honest, I have a ton of very similar thrillers on my TBR already, yet that doesn't seem to stop me from adding more. This book just came out this month, and it is about a woman named Chloe Daniels who wakes up in the hospital with no idea who she is, how she got there, or who these people claiming to be her family are. As she starts to recover, her parents and her sister start to tell her more details of her life, but she can't escape the feeling that they are hiding something. I tend to enjoy thrillers in general, but always have a hard time choosing one to read. I tend to default back to the same few favourite authors that I already know that I like, so books like this often get pushed aside in favour of something more popular, but it seems like a very interesting story. I have a few thrillers on my TBR about characters who are struggling with some sort of memory issue and try to uncover what really happened to them, so I think it's about time that I actually pick up a few of them! This is still quite a new release, so I'm interested to see more reviews as they come in.