I thought I was going to skip my Stacking the Shelves post this month because of another similar Top 10 Tuesday topic last week, but I realized that I've added so many new books to my list, it was still worth it! It gets a little overwhelming sometimes to look at my TBR list and see just how many books I'm interested in reading. My list is currently 2678 books, and I generally read less than 200 books a year, so it's definitely a very, very long-term project. I was sure that I wouldn't have much to add to my list right at the start of this year since I'd spent so many hours last year looking at upcoming releases and adding them to my TBR already, so I was surprised to realize just how many new books I added! The only downside is that I'm sure it will be quite a while before I actually end up reading any of them. To be honest, there were quite a few more books that I intended to include here, but didn't want the post to run on for too long, considering it's a lengthy list already!
Stacking the Shelves is a weekly meme all about the books we are adding to our shelves each week. It is hosted by TyngaReviewsand ReadingReality. 
1) Lovestruck by Kate Watson
I was drawn to this book because of the cover, but a little on-the-fence about it because of the synopsis. It is about a 16-year-old cupid-in-training named Kali who accidentally falls in love with Benicio, the teenage musician, and decides to date the mortal, even though it incurs her father's wrath. Kali also would rather be a muse than a cupid, but to switch paths would mean defying the Oracle who decided her fate. I was on the fence about this one because it is not the kind of plotline that usually interests me much, but I am interested in Greek mythology. It also sounds like it could be a very cute story that is a little different from most other YA romances that I've read, and I'm always up for something a little different. This book is due out in early April of this year, so I'm interested in seeing what people think of it once it is released. I have not seen very much hype around this one yet, but it sounds like it could be fun to try.
2) Things You Save in a Fire by Katherine Center
I could have sworn I already had this one on my TBR list, so it was a bit weird to realize that I'd only added it very recently. I guess I must have decided against adding it last time, but I'm not sure why. This book is about a woman named Cassie who is a firefighter, forced to give up her job when her estranged and ill mother asks her to move back home to Boston instead. Cassie gets a job at a firehouse in Boston instead, with coworkers who are not happy to have a woman on the team, except for one rookie who immediately shows an interest in her. Cassie does not want to jeopardize her career, especially when she has always had to work so hard to be taken seriously, and she is not interested in dating a coworker, especially because a former captain advised her to never date another firefighter. I don't think I've ever read anything that focuses heavily on firefighters, aside from maybe one Nicholas Sparks book that I read a very long time ago. I'm very interested in reading this one because I think it would be something a little different from what I usually read, and I've heard great things about this author.
3) How to Hack a Heartbreak by Kristin Rockaway
Anyone who's followed my blog for a while will know that I'm a complete sucker for anything that has to do with social media. This book is about a woman named Mel who is a helpdesk technician at a startup company called Hatch. Fed up with having nothing but bad dates, Mel decides to design her own app JerkAlert which will allow users to log the terrible guys they date. Her app goes viral,  but she soon finds herself in way over her head. This sounds like such a fun story, and exactly the kind of social media-focused book that tends to interest me. This book is not out until late July 2019, so I doubt I will be getting to it before the end of the year, but I'm very interested in giving this one a chance! There are only a handful of reviews on Goodreads so far for this one, and most of them seem to be quite positive. I'm also curious to see how the author handles the whole JerkAlert app, since I often find that books involving female app designers end up putting very little focus on the actual app itself. It seems like it will have a bigger role in this book, so I'd love to see how that is handled. I'm definitely looking forward to reading this one.
4) The Unhoneymooners by Christina Lauren
It's starting to feel like every time I look at Goodreads, there's another new Christina Lauren book coming. I have at least two already on my list to read this year, with many more on my TBR. I have no interest at all in their (for those who don't know, Christina Lauren is a team of two authors Christina Hobbs and Lauren Billings) Beautiful Bastard series, but almost all of their standalones are on my TBR. The Unhoneymooners is their latest release, due out in May of this year, which is about a woman named Olive who is forced to spend the day with her enemy, Ethan, since both are involved in the wedding party for Olive's sister. When the enter wedding party somehow gets food poisoning except for Olive and Ethan, they find themselves heading on the all-expenses-paid honeymoon to Hawaii together, where they have to post as newlyweds. This is such a silly premise, but it sounds like it will be a ton of fun to read! I've only read Autoboyography by this author pair so far and I absolutely adored it, but all of their other romance standalones sound very interesting. I actually do have a challenge prompt that this might fit, but I'm also not sure I want to stuff my list with too many Christina Lauren books.
5) Starry Eyes by Jenn Bennett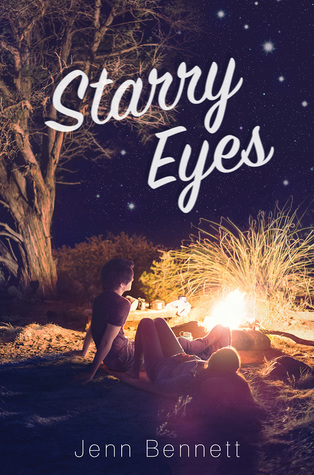 I will just start by saying that I've never read anything by Jenn Bennett, despite having all of her YA standalones on my TBR list. This book is about two former best friends, Zorie and Lennon, who are now enemies. On a camping trip gone wrong, Zorie and Lennon find themselves stranded in the wilderness together, forced to work together to find their way back to safety. I'm generally not a fan of wilderness/survival stories of any kind, but I do like hate-to-love kinds of stories or stories where characters are stuck together and forced to sort out their problems. I've heard so many great things about Jenn Bennett as an author, so I think I will need to read at least one of her books at some point. I've seen nothing but positive reviews for this one so far, although I think I would need to be in the right kind of mood to read it. I'm finding that YA contemporaries have been keeping my attention less lately, unless they have some kind of unique angle to them. I'm still willing to give this one a chance, but I'm not sure how high it is on my priority list either.
6) The Dreamers by Karen Thompson Walker
I've been hearing quite a bit about this book lately, so I was excited to add it to my TBR. It is about a girl named Mei, whose roommate stumbles into their dorm one night and falls asleep, with no one able to wake her up. As more and more people around the town start to fall into this seemingly permanent sleep, people start to panic and the town falls under quarantine. Those who are sleeping seem to be showing unusually high levels of brain activity, indicating that they are dreaming enhanced dreams, but no one knows what they are dreaming of. To be fair, although I've been hearing a lot about this book, the reviews have been very mixed. It sounds like a very interesting concept but I'm also a bit worried that I'll find it confusing. I've seen many reviewers comment that there are a lot of characters to keep track of, and I'm generally not a big sci-fi reader to begin with, so I'm not sure if I'll like this one. I've also seen quite a few reviewers comment that the book can be confusing and not much is really resolved, which is not very encouraging. I think I'll have to try it for myself at some point and find out.
7) Never Have I Ever by Joshilyn Jackson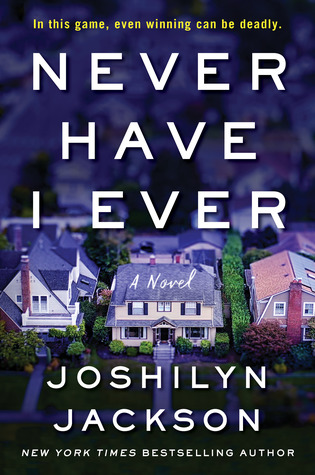 Joshilyn Jackson is another one of those cases where I have several of her books on my TBR, but haven't actually read any of them. I was drawn to this one because of the cover art, and I also thought the title was intriguing. It is about a woman named Amy whose life starts to unravel when a new woman, Angelica Roux, arrives at her door one night for her book club. Angelica soon wins over the rest of the group and lures them into a game of Never Have I Ever. Everyone thinks it is harmless fun except Amy, who realizes that Angelica seems to know all the secrets of her past and seems intent on making Amy pay. This book is not out until the end of July, so it will be quite a while before I finally get to it, but it sounds very interesting. I've always hated games like Never Have I Ever, for some reason, but I'm very interested to see how it is used in this story. I also tend to read a lot of books that involve characters trying to hide something from their past and rebuild their lives, so this one seems like something right up my alley.
8) The Familiars by Stacey Halls
Every time I've had blog prompts about books involving witches in the past couple of years, I've been surprised to realize how few of them I've actually read. I've always been fascinated by witches and the stories of them throughout history, so I have no idea why I've read so few. This book is about a noblewoman named Fleetwood Shuttleworth (quite the mouthful of a name!) who is pregnant, but has never been able to bring a baby to term and a doctor has predicted that she will not survive another attempt. Fleetwood meets a midwife named Alice Grey, who promises to help her deliver a healthy child, but soon is accused of witchcraft and Fleetwood must help to prove her innocence. This book is set during the real Pendle Hill Witch Trials, and both Fleetwood and Alice were real people. I find most books that focus on witch trials are set in Salem, so it will be interesting to read about a different setting and period. This book will be out in a couple of weeks, so I'm very interested in finding out more about it when it comes out.
9) Genesis Begins Again by Alicia D. Williams and A Good Kind of Trouble by Lisa Ramee
I'm pairing these two together because I found them both while browsing for upcoming diverse books, and both are middle grade, which I don't often read. Genesis Begins Again is about a 13-year-old African American girl named Genesis who keeps a list of all things she hates about herself, especially her skin colour, and struggles with her father's gambling addiction, forcing her and her mother to move in with Genesis's grandmother instead. It seems like a very interesting book because it tackles internalized racism and the prejudices that Genesis faces from her own family and other African Americans, which is an angle I've rarely seen addressed. A Good Kind of Trouble is about a 12-year-old African American girl named Shayla whose older sister is involved with Black Lives Matter, and decides to get involved herself after experiencing a powerful protest, despite her own aversion to getting into any kind of trouble. I'm glad to see there are middle grade books that are tackling such difficult topics. I rarely read books for this age range, but these two appeal to me strongly enough to give them a chance.
10) The Afterwards by A.F. Harrold and Emily Gravett
This is another middle grade book, but I added it to my TBR as soon as I saw that it had been compared to both Neil Gaiman and Roald Dahl. It is a children's book about two best friends, Ember and Ness, who are inseparable until Ness suddenly dies. Ember finds her way into the afterworld, and decides that there must be a way to bring Ness back. I've seen extremely mixed reviews for this one, which is not surprising since it seems incredibly dark for a children's book. I do think it is important for children to have access to books that help deal with death and grief, but it is definitely not something that everyone will be able to handle. This book is due out in March, and I'm very interested in seeing a preview of it through Amazon or Goodreads before I decide how much I want to read it. It sounds like it has the potential to be a very interesting and powerful story, but I'd like to know a bit more about it first.
11) Guess Who by Chris McGeorge
Lately I've been getting a lot more interested in locked room mysteries, so when I saw this one on Goodreads, I knew I had to add it to my TBR. It is about a man named Morgan Sheppard who solved the murder of a teacher when he was just 11 years old, giving him the reputation as a Sherlock Holmes-style detective. As an adult, he now works as a TV detective with a daytime talk show, with most mysteries focusing on cheating partners or paternity test results. When he wakes up handcuffed to a bed in a hotel room with five other strangers and a corpse in the bathtub, Morgan's deductive skills are put to the test, with only three hours to solve the case before the all die. I actually haven't found too many locked room mysteries, but I find them really fascinating. It's usually really interesting to see how the detective manages the case with a very limited pool of suspects, and especially when all of the suspects are right there with him. This book came out in September 2018, but I hadn't heard very much about it until it came up randomly on my Goodreads page. I actually can't even remember exactly how I found this one, but I'm glad I did.
12) Someone Knows by Lisa Scottoline
To be honest,  I have yet to truly love any of the Lisa Scottoline books that I've read, but I've given each of them 4 stars and the premises are always intriguing enough to draw me back in. This book is about a group of four teenagers who were close friends decide to prank another boy into a game of Russian Roulette as initiation into their group. Although the plan was to leave the gun unloaded, the boy dies and their lives are changed forever. Reuniting for the first time after one of their group commits suicide, one of the friends is determined to figure out whether the suicide is really as it seems and if it has any connection to that prank that went wrong years ago. I seem to have a thing for covers that focus houses/neighbourhoods, I'm realizing, since the cover was what first drew me to this before I'd even realized it was a Lisa Scottoline book. I always enjoy the concepts behind her books but something about the execution never quite works for me. I'm hoping this will be the one to break that pattern and become my first 5-star read from her.
13) Mr. Dickens and His Carol by Samantha Silva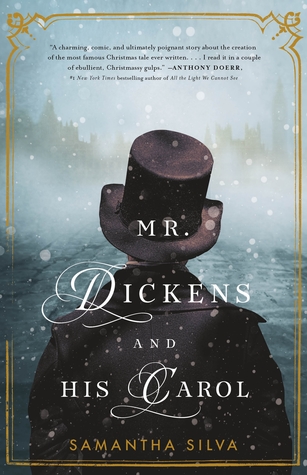 I added this one to my list because it seemed a bit different from the kinds of books I normally read. It is about Charles Dickens who is faced with the choice of writing a Christmas book within the month, or all of his debts will be called in, which would force him to lose everything. While walking around London, he meets a young woman and her son, Timothy, who inspire him to write the story that will eventually become A Christmas Carol. this sounds like such an interesting book because I've never really put much thought into the stories behind some of the most famous classics. I've read three of Charles Dickens books, and I especially enjoyed A Christmas Carol. I'm very interested to see the backstory behind this one. I also think it's interesting how this book tackles the whole idea of what it takes for an author to write the stories that we now know as classics. A Christmas Carol probably seems like it should be an easy book to write compared to his other works, but knowing that it came about completely under duress and the whole angle of being forced to write at all seems very interesting. This is not a story I would have thought I wanted to read, but as soon as I saw it on Goodreads, I knew it was something I'd have to try.
14) I'll Be There for You: The One About Friends by Kelsey Miller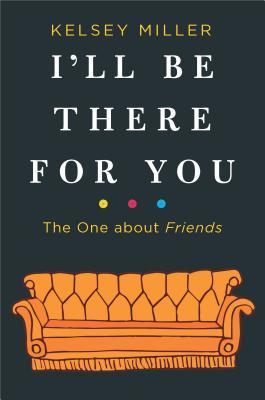 While I enjoy the TV series Friends, I was definitely never as obsessed with it as most other people my age. I barely watched it at all when it was at the height of its popularity, but I've watched it a few times since then and even binge-watched it on Netflix. I'm generally not a fan of non-fiction in general, but the rare time I do read it, I find books about TV series tend to be a lot of fun. I especially love reading books that like "The Psychology of The Simpsons" which applies real principles to the show, or books about the impact a show has had (ie. Buffy the Vampire Slayer). This book is a retrospective about Friends, covering everything from the show's origins to its legacy. I've seen so many articles online that talk about and analyze so many aspects of Friends, especially with how some of the characters and episodes would be viewed if they were written today. I wouldn't say this book is particularly high on my list, but I think it will be a lot of fun to read when I do eventually pick it up.
15) Empire of the Vampire by Jay Kristoff
I usually don't add books to these lists until they have cover art at the very least, and especially not books that won't be released until late next year, but I felt like I just had to include this one. Aside from Buffy, I'm not usually particularly interested in vampire stories, but I love Jay Kristoff's Illuminae series with Amie Kaufman, and would love to read more of his work. This book is about Gabriel de Leon, the last member of a destroyed holy order, who is imprisoned for murdering the vampiric king and charged with telling his life's story. Gabriel's story spans from his youth to the betrayal that saw the end of his order, and his discovery of the Grail which may bring an end to the eternal night that has lasted the past 27 years. If any vampire story was going to interest me, I think this would be the one. It is far too early to really start hyping myself up for it, since it is not due out until September 2020! I have plenty of other Jay Kristoff books to read in the meantime though, although I'm not sure if any have made it to my list for this year, but this one sounds so fascinating!
16) The Bookish Life of Nina Hill by Abbi Waxman
I have one of Abbi Waxman's books lined up to read this year, and another already on my TBR so it's no surprise that this one caught my attention too. This book is about a young introverted woman named Nina Hill, who enjoys her quiet life working in a bookstore. When the father Nina never knew suddenly dies, she is shocked to find out she has many relatives that she never met, who all live nearby and are all interested in meeting her. At the same time, her trivia competition rival Tom is starting to show an interest in her too. Nina decides it is time to get out of her comfort zone a bit, but is not convinced that real life can ever live up to the stories she reads. I'm always a little hesitant when it comes to these kinds of stories because I think there is a very fine line between challenging an introvert to step a bit outside their comfort zone, and giving the impression that the way they are choosing to live is somehow settling for less. It's the same reason I've been very hesitant to read Morgan Matson's Since You've Been Gone. However, it sounds like Nina is exactly the kind of character that I would relate to and I'm very interested in picking this one up at some point.