I feel like the prompts for Top 10 Tuesday and Top 5 Wednesday have been overlapping quite a bit lately, but this is a fun one so I don't mind. A couple of weeks ago, I did a Top 5 Wednesday post about some hyped new releases that I'm not very excited for. This week's prompt is along the same lines, with new releases that I'm still on the fence about. I've found that I've developed a habit of adding books to my Goodreads TBR based on author name alone. If I've read and enjoyed something by that author, I'm likely to add their next book to my TBR. In many cases, I end up adding many books by the same author even if I've never read anything by them! By going through my TBR list, I've noticed quite a few authors who show up repeatedly just because their books seem like they would interest me, based on synopsis alone. I actually made the mistake initially of only choosing books off my TBR, but I soon realized that if I'm on the fence, there's a good chance I haven't added them to my list yet! Once I realized that, it became so much easier to find hyped books that I'm not sure I want to read (but probably could be persuaded to try).
Top Ten Tuesday was created by The Broke and the Bookish in June of 2010 and was moved to That Artsy Reader Girl in January of 2018. It was born of a love of lists, a love of books, and a desire to bring bookish friends together.
1) The Priory of the Orange Tree by Samantha Shannon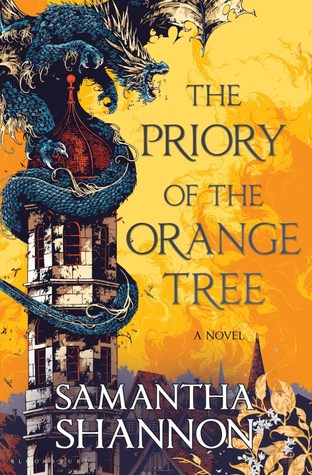 I feel like I had no idea that this book even existed until a couple of weeks ago, when I suddenly started to see it absolutely everywhere. I have never read anything from Samantha Shannon's The Bone Season series nor have I had much interest in trying it. I started to feel a little more on the fence about this one once I started to see just how many bloggers/vloggers were raving about it, and of course it helps that the cover art is amazing! This book is about Queen Sabran the Ninth, an unwed Queen who must give birth to a daughter in order to protect her realm, and an outsider named Ead Duryan who has become her lady-in-waiting and protects her. This book is a high fantasy book with an absolutely massive page count (over 800 page!), which seems pretty daunting. It's only really in the past couple of years that I really started getting back into high fantasy, and I honestly don't always have the patience for the amount of world-building needed for me to really feel invested. On the other hand, this one involves dragons and political intrigue, which both sound very appealing. I definitely won't be reading this one any time soon, but I'm open to the possibility of eventually giving it a chance.
2) Once & Future by Amy Rose Capetta and Cori McCarthy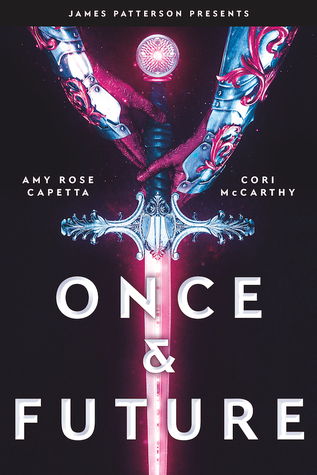 By all logic, I should be very interested in this one but for some reason, it doesn't appeal to me as much as I would expect. This book is a gender-bent King Arthur retelling, focusing on a girl named Ari, who crash-lands on Old Earth and manages to pull a sword from it's resting place, proving that she is the newest reincarnation of King Arthur. She meets Merlin, who has aged backwards over the centuries and is now a teenager, and they must work together to break the curse on Arthur that keeps him coming back to life. I have always loved the King Arthur legend, and read The Once and Future King back in 2016 for the first time. As much as I love this story though, it is not necessarily something that I'd want to see retold. I'm actually not sure I've ever been interested enough in any retelling to actually pick it up, aside from A Connecticut Yankee in King Arthur's Court (which I hated!). I'm also not such a fan of gender-swapped versions of famous stories since I often find they don't really change much aside from just the gender of the character, so it rarely feels like there is much point in changing it at all. I will hold off on this one until I find out a bit more about it.
3) Romanov by Nadine Brandes
This is another book that I should be extremely hyped for, but I'm not even sure I want to read it at all. I have been absolutely obsessed with the Romanovs and Anastasia ever since I read the Royal Diaries book when I was in elementary school. I've always found the mystery surrounding her death completely fascinating, so as soon as I saw the title of this one, it caught my interest. Unfortunately, I struggle sometimes with alternate history if I'm already very familiar with how the real story went. In this version, Anastasia was given the mission of smuggled out an ancient spell in her suitcase when her family was exiled to Siberia, and her only chance at surviving is to either release the spell or get help from Zash, a Bolshevik soldier. I personally don't need the addition of magic to the Romanov's story in order for it to interest me, and in fact it puts me off a bit somehow. I think my impression is that the whole storyline about spells will pull me out of the historical elements which are already fascinating enough, although I can understand the author wanting to add something a bit new and different to it. I have a feeling I will eventually come around to trying this one anyway, but I'm not convinced that it's really for me right now.
4) Four Dead Queens by Astrid Scholte
I'd been hearing about this book on and off for a few weeks, but didn't really know much about it until just yesterday. I have a ton of YA fantasy books on my TBR, so I'm a little on the fence about adding any more unless I'm really set on reading them, but this one does sound very interesting. It is about a girl named Keralie who lives in a nation called Quadara, which is separated into four regions each ruled by it's own queen. Keralie is a thief who works for a man running a black market on items that buyers can't get in their own region. When Keralie comes across a comm disk that shows each of the four queens brutally murdered, she hopes that finding the person who was supposed to receive the disks will reveal who the culprit responsible for their deaths, which will be very valuable information that is sure to be in high demand for trades. She teams up with Varin, the messenger she stole the disks from, to see where they were supposed to go and find out what is really happening. Part of this book sounds very intriguing, but it also seems a bit reminiscent of other YA fantasy/dystopains, especially with the four quadrants that are divided much like the Divergent factions. I'm not necessarily opposed to those similarities though, and the plot does sound very interesting. I think of all the books here, this is the one most likely to make it onto my TBR list (at least of the ones that aren't already on it).
5) White Stag by Kara Barbieri
This is another book that I only heard about very recently, but I was immediately drawn to it because of the beautiful cover art. It is about a seventeen-year-old girl named Janneke who is the youngest daughter in her family, and as such was raised as if she was the male heir. As the only survivor to a goblin raid on her village, she is taken hostage and forced to live as a servant to Lydian, a cruel goblin who eventually gives her to his nephew Soren. With the death of the goblin leader, a "stag hunt" takes place to determine who his replacement will be, and Janneke joins Soren on the hunt to ensure that Lydian does not become the king. I can't say that goblins are something that I've ever had much interest in reading about, but I've learned to branch out a bit more in the past couple of years. I've enjoyed books that involved fae, and angels/demons even though those are stories that usually don't appeal to me much. This is another case of deciding how much I really want another fantasy book, and especially one that appears to be the start of a new series, although it does sound quite appealing.
6) Descendant of the Crane by Joan He
I debated this one for quite a while before finally adding it to my TBR list very recently. It is another one that initially drew me in because of the cover, and I eventually started to hear about it everywhere. This book is about Princess Hesina, who has never wanted the crown, but is suddenly forced to take power when her father is suddenly found dead. Hesina is convinced that her father was actually murdered as is determined to find out who killed him, even going so far as to commit the treasonous act of consulting a soothsayer. I think the main reason I was on the fence about this one is because I never really took the time to properly look at the synopsis. I rarely see fantasy books set in Asia, and this one sounds very intriguing! I have seen it advertised as a Chinese version of Game of Thrones, which doesn't necessarily do much for me since I have never read or watched that series. I'm interested in this one because the setting is so different from most other fantasy that I've read, and it seems like a very interesting storyline. I like books that have to do with court intrigue so I'm excited to give this one a chance, although I wouldn't say it is very high on my list either.
7) You Must Not Miss by Katrina Leno
I feel like I've been hearing Katrina Leno's name absolutely everywhere lately, although that is probably mostly from one vlogger that I watch regularly (ChelseaDolling). I was surprised to realize I've had one of her books on my TBR since 2017, and most of her others have been added within the past year. This book is her upcoming release which is about a girl named Magpie who started writing in a notebook the day her sister left town, leaving her to fend for herself. Branded a slut and excluded by her classmates, Magpie retreats into the world she created in her notebook which she calls Near, a perfect world where she can have whatever she wants, including revenge. It sounds like such an intriguing concept, but I'm on the fence about it just because I haven't read anything by this author so I'm not completely set on reading it any time soon. Also, this may sound very petty, but I find I have a hard time taking characters seriously when they have very unusual names, so "Magpie" throws me off a bit (no offense to anyone reading this who might be named Magpie). It sounds like an interesting story and something I would enjoy, but I'm not sure if I'd be better off reading some of her earlier books first.
8) The Revolution of Birdie Randolph by Brandy Colbert
This one definitely fits in with what I mentioned above about unusual names. It is about a girl named Dove "Birdie" Randolph, who is doing her best to follow the path her parents want, and seems to be on track until she falls in love with a boy who has a troubled past who her parents would never approve of. Birdie's estranged aunt Carlene also moves back into the family's apartment, causing a lot of problems at home due to Carlene's history of moving in and out of treatment facilities for addiction. I read Little & Lion by Brandy Colbert last year, and I have to say that I was a little let down. It had been one of my most anticipated books and while I enjoyed it, I didn't connect with it nearly as much as I thought I would. I definitely liked it enough to continue reading books by this author, but I think it has killed a bit of momentum for me in terms of my motivation to pick it up. I also have Brandy Colbert's 2018 release Finding Yvonne on my list with no immediate plans to read that either. I'm not even 100% sure I'd call this one a hyped book because I haven't seen very much buzz around it, although I've seen a lot of positive hype about Brandy Colbert as an author in general. I'm hoping I have a bit more luck with this one when I finally do decide to try it.
9) Call It What You Want by Brigid Kemmerer
I was so excited to read Letters to the Lost last year after seeing tons of hype about it online, but I definitely didn't love it as much as everyone else did. I read that book on a day where I had a power problem at my house, and I wonder if that threw things off a bit for me, but I just didn't get into it that much. Of course, that didn't stop me from adding the sequel or any of Brigid Kemmerer's subsequent books to my list, including this one, which will be out in June of this year. This book is about a popular athlete named Rob and an overachiever named Maegan who are paired together for a calculus project, and develop a friendship. Their new friendship is put at risk when Maegan learns that Rob is planning something to fix the damage caused by his father, a man who embezzled funds from half the town and also had a failed suicide attempt. The way the synopsis reads, it sounds like Rob is planning on doing something morally questionable to try to "fix" things, which sounds interesting. I really want to love this book, but my experience with Letters to the Lost last year has put me off it a bit. I'm definitely willing to give this author another chance, but it's kind of on the backburner for now.
10) Of Ice and Shadows by Audrey Coulthurst
This is another book that has dropped on my anticipated list because I wasn't such a fan of the first one. Of Fire and Stars was another book that I was really looking forward to last year, and I just didn't love it. I honestly think that a huge factor was the fact that I was reading multiple YA fantasy books in a row, but I also found it very slow and completely lacking in world-building. I don't even need a ton of world-building to be satisfied, but I at least would like a bit more than what was offered. This book is the sequel, following Denna who is learning to control her powers by traveling to Zumorda, with Mare agreeing to be her ambassador. As soon as they arrive in the town, an attack changes everything, with Mare called upon to create an alliance with the Zumordan queen, a woman who has more interest in Denna and her powers instead. The plot of this one sounds a lot more interesting to me than the first book, and I'm willing to give it a chance now that I have a better sense of what to expect. I was very disappointed when I read the first one (although I gave it 4 stars) because I thought it would easily be a favourite!