Looking back on the books that I've added this month, I was surprised to realize just how many of them are books that have not come out yet, many of which aren't expected until 2020! I added about 70 new books to my TBR list since the end of February, and close to a third of those are books that have no cover art and some even with no title yet. Most of those are books by authors that I already know that I enjoy, so it may be a little early to add them to my TBR when there is so little information available about them, but when I saw something like a possible third book to Victoria Scwhab's Villains series, I just couldn't resist adding it immediately! My TBR is currently standing at 2761 books, with no signs of slowing down.
Stacking the Shelves is a weekly meme all about the books we are adding to our shelves each week. It is hosted by TyngaReviewsand ReadingReality. 
1) The Guinevere Deception by Kiersten White
I'd added this one to my TBR in time for last month's Stacking the Shelves post, but skipped over it because it didn't have a cover at that time. Now that the cover art has been revealed, it seemed like an important one to mention! I have only read 1 book by Kiersten White as of now, but I have several others on my TBR for this year and she is quickly becoming an author that I look for since all her recent books sound amazing! I'm not sure how interested I am in her Paranormalcy series or other books that preceded the Conqueror's Saga, but her recent releases have all caught my attention easily. This book is due out in early November of this year, and it is about Princess Guinevere who has come to Camelot to marry King Arthur, but she is hiding the fact that she is a changeling who has been sent to protect the King. In order to keep him safe, she must navigate the court which is in conflict between those who want to stick to the old ways, and a second group who is pushing for a new and better way of life. I read The Once and Future King a few years ago and I loved it! I've always been interested in the King Arthur legend although it is not something I read about often, and I'm excited to see Kiersten White's take on it.
2) Social Misconduct by Stephen Maher
This is another book that I added to my list right at the end of February, a few days after my Stacking the Shelves post for the month. It is about a woman named Candace Walker who manages to get a job at a popular new technology company, but soon finds herself the target of online harassment and a smear campaign. This book isn't out until the end of April, but the early reviews for it so far have been pretty mixed. I was drawn to it because I love thrillers in general, and I especially love books that focus on social media and the internet. There is very little information available about this one so far, but it sounds like the kind of thriller that I tend to enjoy. The only thing that puts me off a bit is that the synopsis mentions that after a week of the online harassment, Candace is hiding out and distrusts everyone. A week seems a bit quick, so I'm curious to see what kind of harassment she was forced to endure to have that effect on her. I'm not sure if this book is at the top of my priority list, but I'm at least interested to see more reviews for it after it comes out next month.
3) The Favourite Daughter by Kaira Rouda
I found this book, coming out in May, while browsing Goodreads and it immediately caught my attention because it seemed like exactly the kind of thriller I tend to enjoy. It is about a woman named Jane Harris, whose oldest daughter Mary died in a tragic accident. With a memorial service planned for Mary on the anniversary of her death, Jane starts to realize that her family has changed, with her husband spending more and more time away and her younger daughter seeming secretive. Jane starts to wonder if her family knows more about Mary's death than they have told her. I've seen comparisons of this book to Liane Moriarty, who is one of my favourite authors, and Shari Lapena, who I have also read and enjoyed. I love thrillers that really delve into character dynamics and this one seems to be along those lines. The early reviews for this one have been excellent so far, and it sounds like it will be a very intriguing story. I doubt I will get to this one within the year, but I'm looking forward to giving it a chance at some point!
4) The Woman in the Dark by Vanessa Savage
If I remember correctly, I found this book while looking at a list of 2019 releases or possibly even specifically new 2019 thrillers. It is about a couple, Sarah and Patrick, who move into Patrick's childhood beachside home. Although Patrick only associates the home with his happy memories, to everyone else it is known as the Murder House, because of a family that was killed there. After they move in, their children are plagued by nightmares and the longer they live there, the more she notices that Patrick is starting to change. I'll admit that this book is a little outside my comfort zone because it seems to straddle that border between psychological thriller and horror. I love a good psychological thriller, but I often have trouble reading horror because it creeps me out too much. To be honest, part of the reason I was drawn to this book is because it reminded me a bit of the classic Simpsons episode where Marge sells a "Murder House" to the Flanders family. It seemed like an amazing setting for a creepy thriller, and something that I have never read before. As much as horror tends to bother me, I love books that have a creepy, atmospheric setting so I'm willing to give this one a try.
5) The Third Mrs. Durst by Ann Aguirre
I guess I was in the mood for thrillers this month while I was browsing Goodreads, since the vast majority of the books I added seem to be from that genre. This one is about a woman named Marlena Durst, who lives in the shadow of her controlling husband. Everyone believes that she lives a fairy-tale life, but no one knows the realities of what is really happening in her home. Marlena knows that death may be the only way out, just like her husband's previous wives, but the question becomes which of them must die. There seems to be quite the trend lately toward more books with female characters who break the stereotype of the passive, non-violent wife (ie. My Lovely Wife by Samantha Downing, or My Sister, The Serial Killer by Oyinkan Braithwaite, just to name a few). This book sounds like a very interesting story, and it reminds me a bit of the Jennifer Lopez movie Enough, which I loved when I first watched it as a teenager. This one will not be out until the beginning of August, so I'm curious to see the reviews for it closer to its release.
6) No Place Like Here by Christina June
I'd been debating adding this one to my TBR for quite a while, along with both of Christina June's other YA books. All three of them initially caught my attention because of the beautiful cover art, but I wasn't so sure how interested I was in the plots. This book specifically is about a girl named Ashlyn who is sent to work with a cousin she doesn't know at a team-building retreat, after her father is arrested and mother is sent to a rehab facility for depression. Ashlyn hates the outdoors and has to deal with her difficult boss and her father trying to control her even while in prison. This book is a little on the shorter side, at just over 270 pages, but it sounds like it could be a good contemporary story. It has also been called a Hansel and Gretel retelling because Ashlyn likes to leave inspirational quotes around like breadcrumbs. Other than that, I don't really see too much resemblance to the fairy tale, so I'm curious to see how that element is woven in. I tend to enjoy fairy tale retellings, so that alone has sparked my interest. After looking into Christina June's books a bit more, it seems that each of them is a modernized retelling of a classic fairy tale, which sounds like it could be fun.
7) All the Invisible Things by Orlagh Collins
This is another book that I was drawn to because of the beautiful cover. It is about a girl named Vetty who is moving back to London, where she is excited to see her childhood best friend, Pez, again. Now that they are both teenagers, everyone is saying that boys and girls can't be just friends, but Vetty doesn't think that will be a problem until Pez tells her she's "not like other girls," causing her to question what that means and how she even wants him to view her. As someone who has always had more male friends than female, I can definitely relate to the annoyance of being told that boys and girls can never be just friends. I'm definitely hoping that this will be one of the rare books that keeps the relationship platonic, since that is something I'd really love to see more of in books in general. I'm a tiny bit on the fence about this one because I noticed that the Goodreads page already has it listed as an "important" story, and although it very well might be one, I'm always a little hesitant when books are called important before people have even had a chance to read it. This book has only been out for 3 weeks, so it seems a little early to me to comment on how important the story is, although I'm still very interested in eventually giving it a try.
8) Her by Britney King
This book fits right in with the trend I mentioned above with female killers. This one is about a woman named Sadie who is jealous of her new neighbour, Ann, who seems to have everything. Sadie decides that the best way to overcome her jealousy is to make friends with Ann, and soon learns that there may be more to Ann than she initially realized. Sadie is left to decide how much she is willing to overlook in order to get what she wants. I'd never heard of Britney King before, but after looking at what else she has written, a few of her standalone thrillers seem very interesting, especially The Social Affair which reminds me quite a bit of You by Caroline Kepnes. With so many new thrillers added to my TBR list, I will definitely need to space them out a bit so I don't end up reading too many in a row and burning myself out on the genre. This one specifically sounds quite intriguing, although for some reason I always tend to find a page count that is under 300 a little off-putting. This book has just 270 pages, which doesn't seem like too much time for a thriller to really develop, but the synopsis definitely interests me enough to still want to try it.
9) Queenie by Candice Carty-Williams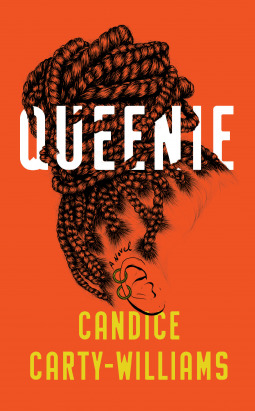 I've suddenly started hearing about this book everywhere in the past couple of weeks, but I guess that makes sense since it was just released on March 19. This book is about a 25-year-old Jamaican British woman named Queenie, whose recent break-up with her boyfriend sends her looking for comfort in all the wrong places. I wasn't so sure at first how much this one would interest me, but then I noticed that it had been considered a cross between Bridget Jones's Diary and Americanah, and I'm having a really hard time imagining how that would work. However, I have also seen a number of reviews commenting that the Bridget Jones comparison doesn't really work since this book is much heavier than that story, touching on difficult topics such as race and mental health. The more I read about this book, the more it has started to interest me and I'm curious to find out more about it. I really enjoyed Americanah when I read it a few years ago, so I'm especially curious to see what it is about this book that has drawn the comparisons, aside from the theme. I wouldn't say that this book is very high up on my list, but I added it to my TBR as a reminder to keep it in mind and check out more reviews for it or a preview when that becomes available.
10) The Color of Bee Larkham's Murder by Sarah J. Harris

To be honest, I added this one to my TBR the second I saw The Curious Incident of the Dog in the Nighttime mentioned as a comparison to this book. This one is about a boy who has synesthesia and who is trying to uncover what happened to his neighbour. Jasper Wishart is 13 and sees colours whenever he hears sounds, but becomes convinced that he might be responsible for what happened to his new neighbour, Bee Larkham. Synesthesia is a very interesting condition, and one that I have not read about very often. After looking into a few more reviews, I saw a few references to autism and many to prosopagnosia, although interestingly enough, neither of those are mentioned in the synopsis. The Curious Incident of the Dog in the Nighttime is one of my favourite books (and the stage play is also amazing!) and I've been hoping for more books to be published along those lines. I also noticed on Goodreads that this one mentions both Fredrick Backman (Beartown) and Graeme Simsion (The Rosie Project) as comparisons, both of which are authors that I love. I'm really looking forward to reading this one!
11) Ask Again, Yes by Mary Beth Keane
I was first drawn to this one because of the unusual title, but the synopsis also sounded very intriguing. It it about Kate and Peter, the children of two NYPD rookies who also happen to be neighbours. When the children finish their eighth grade year, a violent event divides the families with one of them ultimately moving away, and the children are forbidden to have any further contact. Reconnecting as adults, Kate and Peter find their relationship tested by their past. The synopsis is incredibly vague, but I love books that focus on character dynamics, which seems to be the case here. This book will not be out until the end of May, although the early reviews for it have been excellent so far. It reminds me of something along the lines of Celeste Ng's books, and not just because the cover resembles Little Fires Everywhere. This book is literary fiction, which is a genre that I tend to need to be in the right mood to really enjoy, but it sounds like it could be a very interesting character-driven story.
12) Permanent Record by Mary H.K. Choi
I added this one to my TBR because I very recently read and enjoyed Emergency Contact by Mary H.K. Choi, a book which I had a really difficult time rating because of Goodreads' inability to handle half-stars. This book is her newest release, due out this September, which is about a college student named Pablo who is working at a local deli while avoiding calls from the student loan office. Leanna is a former Disney Mouseketeer and teenage pop star, who seems to be tiring of the fame. When the two of them randomly meet at 4 am in the middle of a snowstorm, they both know that it won't last forever, and try to keep it a secret as long as possible, but it doesn't take long for the world to find out. I generally have very little interest in books about any kind of celebrity, so I'm not sure how much this one would have interested me if I hadn't already read and enjoyed another book by this author. I ultimately gave Emergency Contact a 4 on Goodreads, but to this day, I'm still strongly considering upping it to a 5. On the strength of that alone, I'm willing to give this one a chance despite it having a trope I tend to hate.
13) Girls Like Us by Randi Pink
I added this one to my TBR before realizing that I'd already changed my mind about Randi Pink's previous book, Into White. That book was about an African American girl who prays to be white, and finds that her wish comes true, giving her the chance to experience what her life might be like if she was white instead. Although the premise really intrigued me, I ultimately decided against it because I'd seen extremely mixed reviews, including many that said it seemed problematic and very simplistic/stereotyical in the way it discusses race. This new book is set in the summer of 1972, focusing on four teenage girls who are all dealing with pregnancy, either their own or of someone close to them. This book is not due out until the end of October of this year, so I've mostly added it to my TBR as a placeholder until I find out more about them. I'm willing to give this author a fair chance, and I haven't even completely ruled out reading Into White either, but I'm going to wait and see what the reviews are like for this one before I decide one way or the other.
14) Red, White & Royal Blue by Casey McQuiston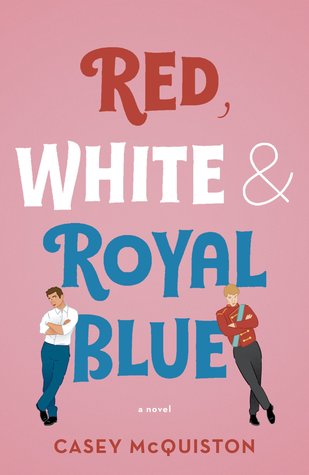 Every year, there seems to be one book that I actively try to avoid because it seems so overhyped, and I think that this year, this is that book. It is not even out yet, and I can't escape from hearing about it literally everywhere, with several of the reviewers I follow already giving the ARC rave reviews. For me, books about politician's kids or royalty fall under the category of "celebrity characters," meaning that I'm often not interested whatsoever. This book is about both — Alex, who is the President's son, and Prince Henry, a British prince. When photos of a confrontation threaten the relations between their countries, Alex and Henry have to stage a fake friendship to try and repair images, and soon find themselves falling for each other for real. To be honest, I'm mostly giving this one the chance because I feel like it will become another scenario like The Hating Game for me — a book that I normally wouldn't be very interested in, that ended up becoming a favourite. With so many reviewers I trust loving it, it seems likely that I'll end up enjoying it too.