It's hard to believe that it is spring already, especially when winter here started so late! I wouldn't really say that I'm the type to have seasonal reads, and I think of all the seasons, spring is the toughest one for me to think about in terms of what kinds of books might fit. Even though I don't necessarily shape my reading habits around the seasons, I at least have a kind of book associated with each one. For summer, I'd think of books that are light and quick to read or that are set in summer. For fall, I think of either creepy thrillers or something very dark and atmospheric, in the spirit of Halloween. For winter, I might think of books that have a cold/wintry setting themselves or that seem cozy. But when it comes to spring, I can't really think of any specific patterns. This year, it does feel like I've been moving a bit more toward seasonal or at least thematic reading to a degree. For example, in February I originally thought of reading books that I associated with Valentine's Day (although that plan fell through), and I had a couple of "winter" books that I planned to read while it was still cold. It's not really something I want to take on completely since I am such a mood reader, but it's been kind of fun to try to plan around a theme at least some of the time. I don't currently have a theme in mind for my spring reading though, but it just so happens that I got in a whole bunch of books from the library just yesterday, so those are definitely books that I intend to read this spring! I also want to note that for the sake of variety, I'm excluding a couple of the books that I'm definitely planning on reading this spring (Vengeful by V.E. Schwab and The Perfect Mother by Aimee Malloy) because I've already mentioned them quite a bit recently.
Top Ten Tuesday was created by The Broke and the Bookish in June of 2010 and was moved to That Artsy Reader Girl in January of 2018. It was born of a love of lists, a love of books, and a desire to bring bookish friends together.
1) Check Please! by Ngozi Ukazu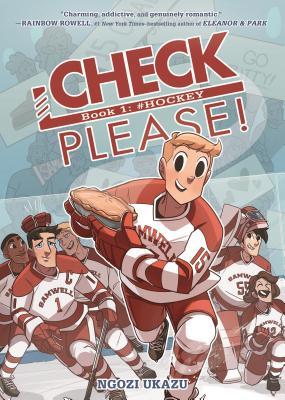 This is a book that I would have associated more with winter, but didn't really plan it out properly when I was taking books from my library. Actually, I even included it on my list for Wintry Reads on my TBR This book is a graphic novel about a boy named Eric Bittle (called Bitty) who has joined his college's hockey team. He is an experienced figure skater, but not so good at hockey. Bitty is also gay but has not come out yet, and he is a vlogger who talks about his life. This book follows him through his first two years of college, and I've seen so many great reviews for this one! I'm not usually interested in stories about sports, but this one just seemed so adorable that I just had to give it a chance. I think it could be a great transitional book between winter and spring since the weather is just starting to warm up here, and our ice is finally starting to melt. This book seems to be the perfect blend of winter (with the ice hockey aspect) and spring because of the coziness/new beginning elements. This book seems really adorable, and it sounds like it will be a lot of fun to read.
2) Campaign Widows by Aimee Agresti
I've had this book on my TBR since last June, and I was surprised that it caught my attention because I have so little interest in politics. This book is about a woman named Cady whose fiance is working on the upcoming presidential election. Cady soon finds herself involved with the other "campaign widows," which are women whose husbands or partners are heavily involved in the political campaign. I thought this book would be a lot of fun to read because it gives a behind-the-scenes look at a political campaign, which is an angle I know very little about. It also seems to be a very character-driven book, which is something that I tend to enjoy. I've had this one checked out from the library for several weeks already but kept putting it off because there were other books I prioritized ahead of it. I've put this one off again for a couple of days now because I'm currently reading another character-driven book that has to do with the dynamics between the people in a group, and I didn't want to read two in a row that were along the same lines. This one sounds very interesting, even if the political angle is a bit outside of my comfort zone, and I will definitely be getting to it within the next week or two.
3) Unteachable by Elliot Wake
I think this is one of the books that has been on my TBR the longest, and I was a bit worried that I wouldn't be able to read it because my library has a tendency to get rid of a lot of books they decide are not popular enough. It is about an 18-year-old girl named Maisie who falls for a guy named Evan that she meets at a carnival shortly before her senior year, only to learn that Evan is her new film teacher at school. They decide to pursue a relationship anyway and keep it a secret in hopes that they don't get caught. Although I don't like the power imbalances inherent in student-teacher relationships, I find I often end up enjoying books that involve this trope, especially when the author takes a different angle on the topic. I'm not sure if that is the case here, but this is a book that I've been meaning to read since 2015 so it seems like it is about time to finally pick it up. Once I saw that it was easily accessible from my library, there was really no excuse not to try it. I decided to add it to my spring TBR to ensure that I could read it without the risk of my library getting rid of it.
4) Tiffany Sly Lives Here Now by Dana L. Davis
If I'm honest, this book was not the highest on my priority list for this year but the more I looked into it, the more interesting it seemed. It is about a 16-year-old girl named Tiffany Sly who is sent to live with the father she never met after her mother passes away, but she has trouble fitting in to her new home. Shortly before she moves in, another man comes forward claiming to be her biological father instead. I thought this would be a nice change of pace from the typical YA books that I read which tend to be more romance-focused. I've heard so many great things about Tiffany as a character, but also that this book has a lot of content that is hard to read because of some difficult themes. I heard a lot of hype for this book for a while, but not so much in the past few months. This book has been out for a year already, and has under 1000 ratings and reviews on Goodreads. It's always a bit surprising to me to see which YA books seem to keep the momentum of the hype, and which ones seem to slip through the cracks. Given some of the reviews for this one, I wouldn't be surprised if it was enough to put people off, but it sounds like an interesting enough story that I'm still up for giving it a fair chance.
5) Final Draft by Riley Redgate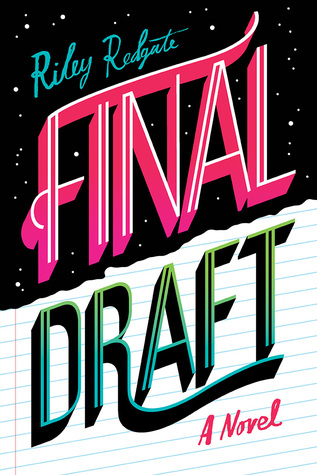 I feel like I've had this book on my TBR forever, even though it's been out less than a year. I must have added it to my list long before it was supposed to be released. It is about an 18-year-old student named Laila who is a talented writer, but her Pulitzer-prize-winning creative writing teacher is extremely critical and unimpressed with her work. Laila becomes obsessed with proving herself to her new teacher and has to decide how far she is willing to go to win her approval. I was first drawn to this book because of its focus on academic pressure, which is a topic that I don't see often enough in YA books. I loved Noteworthy by this author, and liked Seven Ways We Lie (although I found it unmemorable in the long-run), so I'm fairly confident that I will enjoy this one as well. I think of all Riley Redgate's books, this is the one that appeals to me most because I tend to love books that involve characters who are writers. This is also surprisingly on the short side, with only about 275 pages, but I'm hoping that's enough room to let the story develop well.
6) Now I Rise and Bright We Burn by Kiersten White
This is definitely not a series that I would naturally associate with spring, but I wanted to finish it off while I still had the first book fairly fresh in mind. I have quite the long list of series that I want to finish this year, and I've done my best to space them out, but also read the sequels to series I started late last year pretty soon before I have the chance to forget the details. I actually have a total of 4 Kiersten White books on my TBR for this year, including these two, so I think it's a good idea to space them out a bit as well. This series is known as a gender-swapped retelling of Vlad the Impaler, focusing on the brutal Lada and her brother Radu as they attempt to overtake the Ottoman Empire and reclaim Wallachia. I loved And I Darken, and I've heard that both of these books are even better so I'm excited to get started on them soon!
7) The Woman in the Window by A.J. Finn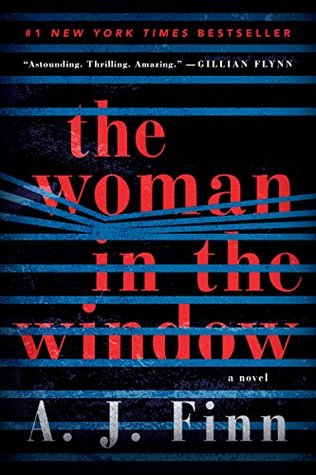 I'm sure I'll get a lot of flak for this one considering all the recent controversy about the author, but I'd already made up my mind that the story interested me and I'm sticking to it. I chose this book for a challenge prompt requiring a book that is being turned into a movie this year, and as soon as I saw it on the list, I knew it was the book I would pick. It is about a reclusive woman named Anna Fox who lives alone and spends her days spying on the neighbours, including the Russell family who recently moved in across the street. When Anna sees something shocking one night, her world begins to crumble and she is left to question what is really happening. The book sounds quite a bit like Rear Window (which I never saw in its original version, but I've seen many variations of the story) mixed a bit with The Girl on the Train. It does have some of the same kinds of tropes that are starting to get a bit repetitive, but I've heard such great things about the story as well. It sounds like exactly the kind of thriller I tend to enjoy.
8) Nine Perfect Strangers by Liane Moriarty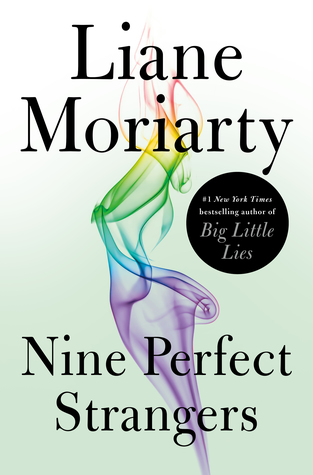 I'm still on the waitlist for this one from my library, but I'm hoping to get it within the next couple of weeks. I've read 5 of Liane Moriarty's books so far, and although nothing has topped Big Little Lies for me, I'm always looking forward to her next release. I think the only book of hers that I wasn't such a fan of so far was The Last Anniversary, which was one of her first. I could have sworn I mentioned this one more often on my blog, but apparently it's only been once or twice so far, probably because the synopsis had been so vague up until recently. This book takes place at a remote health resort, where nine people have gathered for a variety of reasons, over the span of 10 days. The characters include a struggling romance novelist, a family of three, a young couple, a young mother whose husband left her, a divorce lawyer, and a former football player. It sounds like a very interesting mix of people and I'm interested to see what happens when all of them are together at this health resort. I've heard that this book is more of a character study than a thriller, although I've come to expect that from Liane Moriarty's books anyway. I'm looking forward to trying this one!
9) Circe by Madeline Miller
I think of all the books here, this is the one that I'm most apprehensive about even though I've heard nothing but great things about it. When I was younger, I was completely fascinated by Greek and Roman mythology and loved to read about the many gods and goddesses. It has been a very long time since I read anything on this topic, but after hearing so many rave reviews for Madeline Miller's books, I knew I wanted to try at least one of them. I was on the fence for quite a while about whether to start with this one or Song of Achilles first, since I would eventually like to read both anyway. I decided to start with Circe because it was a bit more easily accessible from my library, and also because the story interested me a tiny bit more. This book is about the mythological figure Circe, who is banished to a deserted island after discovering her powers, where she develops her skills and encounters many of the most well-known names from Greek myths. I'm a little worried about this one since I'm not too familiar with the Circe story in general, but it sounds like this book would be a great place to start.
10) Summer Bird Blue by Akemi Dawn Bowman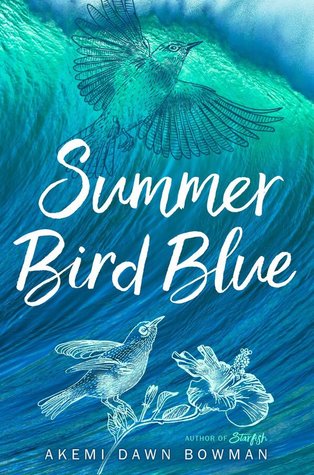 I guess technically this should be a summer read instead, but I'll be reading it very soon because I chose it for a four-part reading challenge prompt, and I wanted to read all four books together even though they are unrelated to each other. I chose this book because Akemi Dawn Bowman's book Starfish was one of my favourites of last year, and I immediately added everything else she had written to my TBR. When I saw a prompt on my challenge list that asked for "something blue" I thought this one would be the ideal fit because it has a blue cover and the word blue in the title. It is about a girl named Rumi who moves in with her aunt in Hawaii after her younger sister Lea dies in a car accident. Struggling with her loss and feeling abandoned by her mother, Rumi wants to recapture her passion for music and finish the song that she and Lea were working on together. This book sounds absolutely heartbreaking, and if it is anything like Starfish, I'm sure that I will end up loving it too.