It always bugs me a bit when the Top 10 Tuesday and Top 5 Wednesday topics are basically the same back-to-back. Yesterday, I posted about 10 books that I planned on reading this spring, so I wanted to differentiate today's topic a bit to focus on spring releases that I'm excited for. There is no guarantee that I will be reading any of these this spring or even this year, but they are all books that are coming out between March and May of this year. As I mentioned in my Top 10 Tuesday post this week, I don't have a distinct idea in mind of what makes a book a "spring" read, at least compared to other seasons. I have a ton of new releases on my TBR in general, so there are lots that I'm looking forward to. The challenge with this topic is that I've already posted about my most anticipated releases for the first half of the year (here and here), so I am intentionally not including any of those books again. The books I'm mentioning here are not necessarily my top priorities, but they are all books that I'd love to read at some point!
Top 5 Wednesday is a meme created by Gingerreadslainey on Youtube, and is now hosted by Sam at ThoughtsOnTomes. The official GoodReads group with the weekly topics can be found here.
1) The Trial of Lizzie Borden by Cara Robertson (March 12)
I was on the fence about adding this one to my TBR in the first place because it is nonfiction, and I generally find nonfiction very dry. I ultimately ended up adding this one anyway because Lizzie Borden is a fascinating murder case. I first heard of it on the show Smart Guy, where it was the focus of  a school project that the characters were working on. Lizzie Borden is a young woman who was accused of murdering both of her parents with an axe in 1892. The case garnered a lot of attention at the time, and the interest has persisted even now that it has been over a century. Part of the fascination with this murder was the fact that Lizzie was a young woman, and the murders seemed unusually brutal to be committed by someone her age and especially by a woman. It was also a very mysterious case because most of the evidence, at least to my knowledge (which is admittedly very limited) pointed to Lizzie and there didn't seem to be many other viable suspects. This book includes transcripts from her trial, newspaper accounts, and recently found letters written by Lizzie herself. I think if any nonfiction book was going to interest me, this might be the one.
2) Defy Me by Tahereh Mafi (April 2)
This is one book that I am planning to read this year, although not necessarily in the spring. I still need to read Restore Me, although I may end up leaving aside the companion novella for now just because I'm not sure I can squeeze it in among all my reading challenges. I won't say too much about the specific plot summary of this one because I haven't looked at it in detail in case there are spoilers for Restore Me, but this series in general is about a teenage girl named Juliette, who has the unusual ability to harm others by touching them, which caused her to be imprisoned before the start of the series. I absolutely adored Shatter Me when I first read it, and I read the two following sequels over the span of two years. I kind of regret spreading them out so much because by the time I got to each of the next two books, I had forgotten a lot of the story and the characters, and needed to read a summary to refresh myself. I'd also burnt myself out a bit on this kind of dystopian story by the time I got to the third one, but I still really enjoyed it and was excited to learn that the series was continuing. I will definitely need to refresh myself again before reading the next two books, but I'm expecting to like both of them.
3) The Boys Who Steals Houses by C.G. Drews (April 4)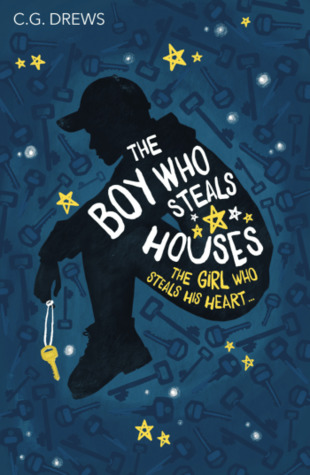 I haven't read C.G. Drews (better known as PaperFury) debut A Thousand Perfect Notes yet either, but I'm very interested in that one as well because it reminds me of Your Lie In April, which was a beautiful anime series. This book is her second YA novel, about a 15-year-old boy named Sam who has been abandoned, along with his autistic brother, by his relatives. Trying to build a new life for the two of them, Sam breaks into empty houses while the owners are away, but is caught when one family returns home unexpectedly. He is surprised to find that this huge family takes him in, with each of the teenagers in it assuming he is the friend of one of their siblings, thus not questioning much about why he is around. This sounds like such a cool concept for a story and I'm very interested to see how the dynamics between Sam and the family play out. I'm especially interested in the way he blends in so easily just because no one thinks to question who he is. I always tend to gravitate toward YA books that have some kind of unique angle to them, and this one seems like it will have just that. I don't currently have this one in my plans for this year, but I may need to squeeze it in somewhere!
4) Laura Dean Keeps Breaking Up With Me by Mariko Tamaki (May 7)
On the other hand, I had this book in mind for a specific challenge prompt this year, but tentatively switched it out for something that has already been released instead. This book is a graphic novel by the author of This One Summer, which I really enjoyed. It is about a girl named Freddy who has an on-and-off relationship with Laura Dean, who keeps breaking up with her. Freddy's friends hate the way Laura Dean treats her, but have trouble getting to believe just how toxic the relationship is. I'm really hoping I can get a copy of this book sometime this year, although I'm not actually sure it will fit into my challenge plans anymore at this point. Part of the reason I wanted to try it is because I really wanted to read more graphic novels in general this year, and this story specifically sounded very interesting. It is not very often that toxic relationships like this are addressed, and I'm not sure I've ever read about one where both partners are female. Depending how it is written, it could also be a very important book to show how difficult it can be to recognize and get out of a potentially toxic relationship. I've seen such amazing early reviews for this one so far, so I'm excited to read it (whenever that may be)!
5) Aurora Rising by Jay Kristoff and Amie Kaufman (May 7)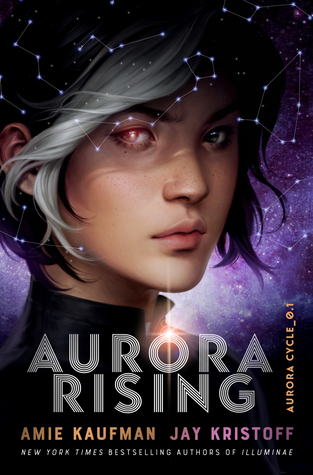 I'm sure I've mentioned before that sci-fi is not a genre that I reach for very often, but the Illuminae series by this author duo has quickly become a favourite, so I'm really looking forward to what they come out with next. This book is the start of a new series, set in the year 2380, where Tyler Jones, star student and graduate of Aurora Academy, somehow gets stuck with a team of misfits that no one else would work with. Difficult team aside, Tyler's biggest problem is Aurora, a girl he rescued who has been trapped in cryo-sleep for two centuries and is now struggling to adapt to the new world, and whose rescue may be the spark that ignites a war. This book sounds so incredible, and I can't wait to read it! Over the past few years, many of my new favourite books and series have involved some of these same elements (bands of misfits or at least very different people working together for a common goal, like Six of Crows or The Lunar Chronicles). I was completely fascinated by the Illuminae series and I'm hoping that this one will be just as good. I doubt I'll be able to get to this one before the end of this year, but it is definitely top of my list for next year at least, which may actually be better so I can read it closer to the release of the next books in the series since I assume those will be out over the next two years.