My original intent when I saw this week's topic was to mention some of the books featuring mental health that I've read, but I realized that many of those are books that I've already mentioned many times before. Instead, I decided to focus on a few of the books relating to mental health that are still on my TBR, many of which have been on my TBR for several years now. Obviously since I have not read them yet, I can't really comment about the representation but these are all books that I've heard great things about and have waited way too long to read. I think in most cases, the reason I haven't read them is because I just had so many YA contemporary books on my list that it wasn't possible to keep up with them all. These are all books that I'm still very interested in trying at some point, so maybe this will give me a bit of a push to actually pick some of them up soon.
Top 5 Wednesday is a meme created by Gingerreadslainey on Youtube, and is now hosted by Sam at ThoughtsOnTomes. The official GoodReads group with the weekly topics can be found here.
1) By the Time You Read This, I'll Be Dead by Julie Anne Peters
I think this is one of the books that has been on my TBR the longest in general, and it is one that I found specifically while looking for YA contemporary or realistic fiction recommendations. It is about a girl named Daelyn who has repeatedly attempted suicide, and joins a website for other people with suicidal thoughts/intent. On this site, she blogs about her life and reveals her history of bullying that has persisted all her life. When she meets a boy named Santana at school, despite her efforts to be left alone, he is determined to become her friend. I think part of what put me off picking this book up initially is that it seemed like it might have the common YA trope of a new relationship being enough to change a person with a mental illness. That's a trope that tends to be very annoying because it's just not realistic. I am kind of intrigued by the whole blogging aspect though since that is something I tend to really enjoy in books, and I'm interested to see how such a creepy kind of website is portrayed. I'm not sure when I'll be getting around to this one, but I'm still interested in giving it a chance.
2) Queens of Geek by Jen Wilde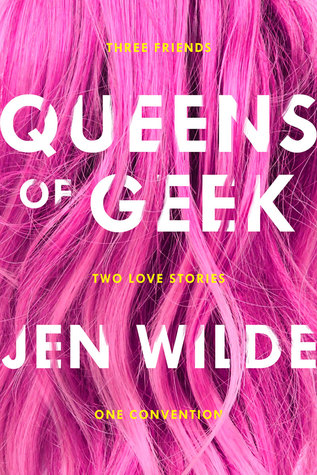 I actually have tentatively added this one to my plans for this year, so there is a good chance I'll be getting to it soon. Strangely enough, it took me quite a while to even confirm whether this book did have a mental health element to it, but judging by several of the reviews I have read, I think it fits. As far as I am aware, this book has a character with social anxiety and another character who is on the autism spectrum, both of which are topics that really interest me. It takes place over the span of a few days where three friends are attending SupaCon, a convention for an upcoming movie. The book is narrated from the dual perspectives of Charlie who is the star of the movie and a vlogger, and who is nervous to meet her hero/crush Alyssa at the convention, and Taylor, who is more introverted and has a crush on her best friend, Jamie. I've heard such amazing things about this book in general, and it sounds like it will be a lot of fun to read. I was glad to see that it would fit for my challenge prompts that required a book relating to mental health since I've been wanting to read this for a while.
3) Radio Silence by Alice Oseman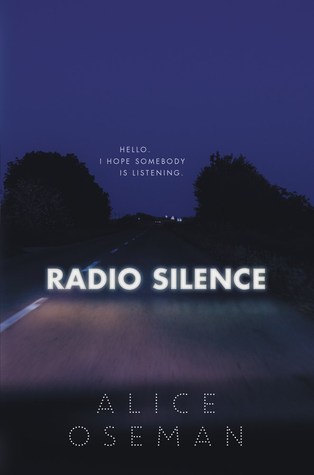 This is another book that I'm intending to read this year, and another one that I had difficulty confirming whether it had a mental health element to it. It is about a girl named Frances who is obsessed with a podcast called Universe City, which she posts fan art for online. When she meets a boy, Aled, who turns out to be the creator of the podcast, they quickly develop a strong friendship which makes Frances feel like she can finally be herself. To be honest, I'm still not 100% sure if mental health is involved in this book, so hopefully it's not a mistake to list it here. My understanding is that there is some anxiety representation, but I've had a lot of trouble figuring out if that is the case. Either way, I'm very interested in this one because it focuses on a platonic friendship, which is extremely rare in YA books, and I also love that it has a focus on the podcast and Frances's online life. I have been hearing about this book non-stop for a couple of years now, and it always comes highly recommended, so I'm very excited to give it a try.
4) Paperweight by Meg Haston
This is another book that has been sitting on my TBR since 2015, with no immediate plans to try it. The main reason I'm including it here is because I recently saw it highly recommended by EmmmaBooks, one of my favourite Youtube channels. I don't even think they were recent videos, but she has repeatedly talked about this book as one of her favourites because of it's accurate representation of anorexia, which was very true to her own experience with the disorder. Paperweight is about a 17-year-old girl named Stevie who is in a treatment center for eating disorders, where she is expected to stay for 60 days. However, Stevie is also just under a month away from the anniversary of her brother's death, for which she feels responsible, and is planning to end her own life as well. None of this is spoilers, since it is all revealed in the Goodreads synopsis upfront. I think I've been putting this one off quite a bit because it's rare for me to have the strong motivation to pick up books about characters with eating disorders, since the ones I have read have all felt pretty similar. Given how strongly Emma recommends this one on her channel, I'm starting to change my mind.
5) Everything All At Once by Katrina Leno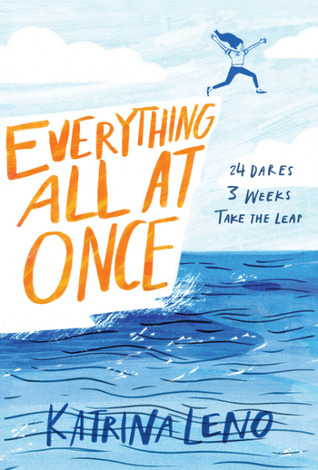 Of all the books here, this is the one most recently added to my TBR after hearing so many rave reviews for this author lately. It is about a girl named Lottie who has always struggled with severe anxiety, and whose aunt has died unexpectedly leaving her with a series of letters meant to push her outside of her comfort zone. Lottie's aunt was also a famous author of a bestselling book series, along the lines of a J.K. Rowling kind of celebrity. As an introvert myself, I'm always a little wary of books that focus on an anxious or introverted character being pushed outside of their comfort zone. While I agree that it can be helpful to have some kind of external motivator to try new things, I can't help but feel like some of these books (and I'm not necessarily saying this one, since I haven't even read it yet) might carry the message that it is "better" to be more outgoing or adventurous. I'm willing to give this one a chance specifically because I've heard such amazing things about Katrina Leno, and I'm hoping to love it as much as others have.