I don't know why I tend to find it more fun to write about books that I haven't read yet than the ones I have. Maybe it's because it reminds me of how excited I was to discover that book initially, even if it has been 3 or 4 years since I first added it to my TBR. When I'm bored, I often tend to just go through my Goodreads TBR pages in general and look at all the books that are on there. It's a bit overwhelming at times, but it also reminds me of how many interesting books there are out there. Many of the books that have been on my list the longest end up there because I have trouble getting a copy of them, so they end up in a kind of limbo where I'm still very interested in trying them, but have no way to actually do that. Like my first post in this series last week, the books here have all been on my TBR since December 2015!
Top 5 Wednesday is a meme created by Gingerreadslainey on Youtube, and is now hosted by Sam at ThoughtsOnTomes. The official GoodReads group with the weekly topics can be found here.
1) Never Never by Colleen Hoover and Tarryn Fisher
I have not read anything by Colleen Hoover, although I have many of her books on my TBR, including her latest release planned for some time this year. It wasn't until just now that I realized that this book is incredibly short, with only 150 pages, which does put me off a little. I didn't realize this was a novella series, and it's very rare for me to read novellas in general because I often find they don't develop the stories/characters enough for me to really get invested. I was also put off a bit because the synopsis of this one was so short, so I really didn't have much sense of what it was about. All the synopsis said was that the two characters were best friends since their were children, in love from the age of 14, but "complete strangers since this morning." Both narrators have no memory of who they are and they are trying to piece together clues about their lives and relationship. I've never removed this one from my TBR because it does sound somewhat interesting, but I'm not really sure if I'll like it. If anyone has read it, please let me know what you think (without spoilers)!
2) Unravel by Calia Read
I added this one to my TBR originally because the premise sounds pretty interesting, but I was put off a bit when I saw that it was part of a series. Aside from fantasy books, I rarely find that books really need to become a series. Even The Rosie Project and Me Before You, both of which I absolutely loved, had great sequels but the rest of the series didn't really need to happen. From what I can tell though, each book in this series follows a completely different character, so it might not be a series that needs to be read in order. This book is about a girl named Naomi Carradine who is admitted to a psych ward. She is in love with Max, but no one else seems to believe her and the doctors don't seem to think that Max is even real. I love books that relate to psychology and creepy psych wards or institutions as settings in general, so this might be something that I would like. It is tagged as "new adult" though which is a genre that seems to be strangely focused on sexual content, which is fine but not always something I'm interested in reading. I've also heard that this book is quite dark though, which is something that often interests me.
3) The Sea of Tranquility by Katja Millay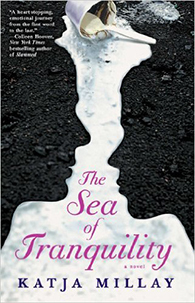 I know very little about this book, but I feel like I probably found it around the same time as the previous two since the themes seem similar. It is about a former piano prodigy named Nastya Kashnikov who wants to get through high school without anyone discovering her past, and to get revenge on the boy who took everything from her. It is also about a boy named Josh, who has lost every person he has ever loved, and as a result, other people tend to leave him alone, except for Nastya. Despite some of the darker themes, I've also seen this described as a fairly typical YA contemporary romance which seems like a bit of an unusual mix. I've seen incredibly mixed reviews for this one despite a very high average rating on Goodreads, which definitely doesn't help my decision of whether to read it. It is another book that has been tagged on Goodreads as "New Adult." I suspect I must have been specifically searching for books in that genre at the time in order to find so many in a row. The more I look into this book, the more I'm on the fence about whether I want to keep it on my TBR.

4) Hidden Wives by Claire Avery
I actually completely forgot that I had this book on my TBR, but it sounds like a very interesting premise. It is about two sisters, Sara and Rachel, who live in a polygamist community in Utah, where they will soon be married off to older men chosen by "the Prophet." When Sara is chosen to be her uncle's fifth wife, she starts to question the faith she has followed all her life. Rachel is promised to marry one of the powerful community leaders, but she has fallen in love with a new friend whom she has been forbidden to see. When her betrothal is finally announced, violence erupts and the sisters must leave the only life they have ever known. I very rarely read books that have heavy religious themes or content, but this one sounds very interesting. This is a topic that I know very little about, and although I have seen some reviews comment that the representation for polygamy is stereotypical and overly negative, I'm very intrigued by the story. I don't know if this is a book that I'll be reading any time soon, but it definitely sounds like an interesting one.
5) Finding Jake by Bryan Reardon
Of all the books mentioned here, this is the one that I am by far most likely to read, although it may not be for a while. I even bought a cheap copy of this one from Book Outlet, so that should be a good push to eventually try it. This is a thriller along the same lines as Defending Jacob or We Need to Talk About Kevin, both of which I loved. It is about a man named Simon who is a stay-at-home dad to his two teenagers, Laney and Jake. When Simon learns that there was a shooting at their school, it seems to be his worst nightmares come true, especially when his son is the only student not to come out of the building. With Jake missing, Simon begins to obsessed about their past and searches for some hint at what might have led to this and what happened to his son. What I loved about both of the books that this one has been compared to was the very compelling parent-child dynamics and the ethical dilemmas that became such an inherent part of the story. I have not heard very much about this one over the years, even though it seems to be in the same vein. Reading through the synopsis again has reignited my interest in this book, but I'm not sure I'll be able to fit it into this year's reading challenges.