Just over two years ago, I made a Top 10 Tuesdays post about series that I needed to read. My original intent was to revisit that post for this week's topic and reflect on the series that I'd listed. Embarrassingly enough, I found that I had only completed one series on that list, with another one very close to being finished! Aside from those, I had only even started one other series (The Hangman's Daughter) and I am very unlikely to continue it. To be fair, many of the series that I'd listed at the time were relatively low-priority for me so it's not too surprising that I didn't follow through. It's only really in the past couple of years that I really got into reading series again, to the point where I now prioritize several each year to incorporate into my reading challenges. Even though there's little point in giving updates on my previous Series That I Need To Read list, I still thought it was a great topic to revisit. I also would have loved to include Leigh Bardugo's Ninth House series and Maggie Stiefvater's Dreamer trilogy, but I feel like I've mentioned them quite a bit recently so I wanted to give the attention to other books instead.
Top Ten Tuesday was created by The Broke and the Bookish in June of 2010 and was moved to That Artsy Reader Girl in January of 2018. It was born of a love of lists, a love of books, and a desire to bring bookish friends together.
1) The Shades of Magic trilogy by V.E. Schwab
This is the one and only repeat on this list from my 2017 post, and this series has become one of my top priorities for next year. The main reason I haven't read yet is because I initially tried to limit myself to just one series per author at at time, but I've started to break away from that by now. This series is about a man named Kell who can travel between parallel versions of London, which are under threat. Kell teams up with a thief named Delilah to save their home. I've been  interested in this one for years because I've seen it compared to an adult-level Harry Potter series. I've also loved everything of Victoria Schwab's that I've read so far, so I'm looking forward to reading more. I've also been a little nervous to start it because I've heard it is a bit on the dense side, so I want to read it when I can devote the time to it properly. This series is at the top of my list for 2020, and I'm really excited to finally try it.
2) The Folk of the Air series by Holly Black
This is another series that is high on my list for next year, even though I was hesitant about it at first. It's only since reading ACOTAR that I've started to be a bit more open to reading faerie/fae series. I've been hearing so much about this series since it debuted last year, and it sounds very interesting. It is about a girl named Jude whose parents were killed, forcing her and her sisters to grow up in the High Court of Faerie. All Jude wants is to belong there, but in order to earn her place, she must defy that King's cruel son Cardan. I'm a little worried to try this series because I didn't really love the one and only Holly Black book that I've already tried, but I'm hoping this one will be better. The third book in this series comes out this November, so I'll be able to read the entire thing next year. Hopefully I can avoid spoilers until then, but I've been surprisingly successful at that so far. I'm looking forward to give this one a try and I hope I enjoy it more than The Coldest Girl in Coldtown.
3) The Dark Artifices by Cassandra Clare
I've made it a priority to read the entire Mortal Instruments and the Infernal Devices series by the end of this year, so I can slowly start to catch up a bit on Cassandra Clare's books. To be honest, they didn't interest me that much when they first came out, but the online fanbase that I've seen over the past couple of years has sparked my interest enough to at least give her books a try. I've only read the first three Mortal Instruments books so far, and they were all a solid 4 stars for me. The books in this next series in the Shadowhunters world are a little overwhelmingly long, but I'm starting to feel like I'll never catch up if I don't make progress on these series. Lady Midnight, the first in the series, is set five years after the end of the Mortal Instruments series, and focuses on Emma Carstairs, who is looking to get avenging her parents. She works with Julian Blackthorn to investigate a demonic plot across LA, and the two of them are also trying to help Julian's brother Mark who had been captured by faeries, and has now returned but does not recognize his own family. It sounds like quite a complex storyline and very intriguing, and I'd like to prioritize this series next year as well if I can fit it in.
4) The Nevernight Chronicles by Jay Kristoff
I'm realizing as I make this list that it's probably going to double as a TBR for next year, although I'll have to really sit down one day and figure out how realistic it would be to read all of these. I've been meaning to read this series for a couple of years now, but ended up putting it aside in favour of reading Illuminae instead. It is about a young woman named Mia Corvere who narrowly escaped from her father's failed rebellion, and is seeking to avenge him by joining a school of assassins. I'm usually not the most interested in stories about assassins, but I really enjoy the Throne of Glass series. I'm not really sure if this one is along the same lines, but I've heard such great things about it. Unfortunately, I've also seen some very mixed reviews from the Goodreads reviewers that I follow. It seems to be the kind of series you either love or hate. It also sounds like quite a dense story and another one that I'll really need to pay attention to. I'd love to add this as a priority for next year, but I'll have to see how my list shapes up.
5) The Legacy of Orisha series by Tomi Adeyemi
I tentatively considered reading at least the first book in this series this year, but just didn't have room to fit it in. It is one that I was very nervous to even add to my TBR because it seemed ridiculously overhyped when it first came out, but I've learned over the past couple of years that sometimes it is worth believing the hype. It is about a young woman named Zelie who lives in a world where magic has disappeared, due to the king ordering the deaths of everyone who has powers. Only a few people have managed to hide their abilities and retain their magic. As one of these people, Zelie has the opportunity to bring magic back and fight back against the king while learning to master her own powers and escape the cruel prince who is intent on eliminating all magic forever. Although I've seen that this will be a trilogy, I have not seen any information yet about when the last book will be released. The second in the series is due out this December, so I'd imagine the third will not be until late next year. I'm very interested in reading this series, but I might wait until all three are out so I can read them closer together, even though that means missing most of the hype.
6) The Infinity Cycle by Adam Silvera
I think it may be a while before I end up reading this series, but it is definitely one that I want to look out for. The first book, Infinity Son, is due in January and there are supposed to be two more books after that, so I would imagine the series will end in 2022. It's another case where I might want to wait until I can read all three closer together, as hard as it is to wait, just because I have so many other high-priority series already and I've found it hard to remember any details when I read books a full year apart. This book is about two brothers, Emil and Brighton, who have always idolized a group called the Spell Walkers, a vigilante group who tries to rid the world of specters. Brighton would love to have powers of his own so he can join the fight, and Emil just wants the war to stop. When Emil starts to manifest a power of his own, it puts him right in the middle of the violence and in the position that his brother always wanted. This sounds like such an incredible concept for a series and I love the focus on brothers instead of the typical YA fantasy focus on romance, at least in the synopsis. I have no idea whether there will be a romance in this series. I love Adam Silvera's writing and this series is quite the departure from the books of his that I've already read.
7) The Crescent City series by Sarah J. Maas
Sarah J. Maas has very quickly become one of my new favourite authors. It literally went from being hesitant to even try her books at all, to devouring everything that she writes. I'm currently on the second-last book of the Throne of Glass series, and really enjoying it! I was very excited to see that she was coming out with a new series beginning next year, although this is another one that I may want to wait and read when several books have been published. It's a bit debatable though, since her books are so long! To be honest, I knew very little about this when I added it to my TBR. I just knew I wanted to read it because it was Sarah J. Maas. It is about a half-Fae, half-human named Bryce who works selling magical artifacts and spends her nights in Crescent City, until a brutal murder shakes up her life. Two years later, no longer enjoying the job she once loved or the nightlife in Crescent City, Bryce is dragged into the investigation because of the murderer's next attack, and teams up with a Fallen Angel named Hunt, who is ordered to protect her even though he resents her lack of interest in solving the case. I feel like it will be very difficult to avoid spoilers for this one once it comes out, but given how complex Sarah J. Maas's plots can be, I'll probably end up waiting and reading the books closer together if possible.
8) Renegades by Marissa Meyer
There is a slight possibility that I will read at least one book from this series before the end of the year, but it seems pretty likely that I will end up saving the whole thing for 2020 instead. Marissa Meyer is another author that I kept putting off reading, but quickly became a favourite once I actually gave her a fair chance. This series is about a group called The Renegades who are humans with special abilities that arose when society crumbled, and established peace. Nova, an orphan, blames the Renegades for her parents' deaths and teams up with the Anarchists to overthrow them. To be honest, I found the synopsis a bit vague and although I could have sworn I'd seen a more detailed (but not spoiler-y) description that helped me understand it better, I'm having trouble remembering where I saw that. I've loved every Marissa Meyer book that I've read so far, and I generally enjoy superhero books and movies in general, so this seems like something I'm likely to enjoy.
9) The Cassidy Blake series by Victoria Schwab
It's unusual for me to actively seek out a middle grade book or series, but it's Victoria Schwab so that is motivation enough. This series has two books so far, and I'm not sure if there are plans for any more. It is about a girl named Cassidy, whose best friend is a ghost, and whose parents are a ghost-hunting team, hired to a haunting in Edinburgh for their new TV show. While in Scotland, she meets another girl named Lara who can also see ghosts and tells her that their job is so send them "beyond the Veil." Cassidy also learns that people who can see ghosts like her have something known as "the light of life," which causes her to be hunted by the sinister Raven In Red who wants to claim this light for itself so it can live again. I'm a tiny bit on the fence about this one because I tend to struggle to relate to middle grade characters in general, but although I rarely seek out ghost stories, I often tend to enjoy the ones that I have read, especially when they are not too scary. I'm mainly interested in this one because I love Victoria Schwab's writing style and I'm interested to see how she develops a story for a younger audience.
10) Aurora Rising by Jay Kristoff and Amie Kaufman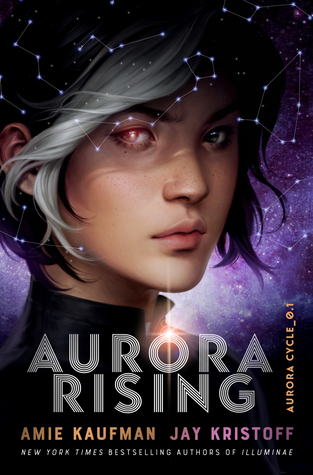 To be honest I'm still a little bitter about the "exclusive" Illuminae novella that was offered with pre-orders of this book, even though I was lucky enough to have a friend send me her copy of the novella after she finished with it and decided she didn't want to keep it. It's frustrating when exclusive things like that are offered to some locations but not others! In any case, this book looks like the start of a very interesting new series that I would love to read, although it's another one that I may hold off until closer to the publication of the other two books. I still have Jay Kristoff's Lifelike series to read, and the aforementioned Nevernight Chronicles, so I also don't necessarily want to lump everything by the same author into next year either. This book is about a star student named Taylor Jones who gets stuck with a team of misfits, including Aurora, who has been trapped in cryo-sleep for two centuries and now struggles to adapt to the new world. I love books that involve these kinds of bands of misfits, and I also tend to love these kinds of "fish out of water" stories about people who are trying to adapt to a different world. I loved the Illuminae series, and this one sounds like it will be just as interesting!