I first found this tag about a month ago, and decided to push it off until closer to Thanksgiving because for some reason, that just seemed fitting! I never watched Friends when it first came out. I was in elementary school at the time, and I remember all of my classmates going on and on about the show. It's a bit odd since I wouldn't necessarily consider it a show for seventh graders, but I remember it being extremely popular. I've mentioned before that I tend to be very late to read hyped books, and I've realized it's the same with TV shows too. I've only just recently watched The Office for the first time, and I'm currently watching Glee for the first time too. I started to see random episodes of Friends on TV, but it took quite a while for me to finally see the entire series in order. I realized afterwards that I actually had seen the majority of the show, and it's become a fun show for me to watch. I was glad to see this tag, originated by Roxanne @AnAverageLife and it looked like a lot of fun! It consists of two questions relating to each character, at least for the main characters, and I loved the variety! Thank you to Roxanne for making this tag, and the header above!
Monica
A book based on a game or competition
Monica was such an interesting character on this show, but her overly competitive nature could get really annoying! The first book that came to mind when I thought of a book involving games or competition was Warcross. This book is about a teenage hacker named Emika Chen who works as a bounty hunter, tracking down people who are illegally betting on the extremely popular game, Warcross. In attempt to make some money quickly, Emika hacks into the opening championship came and manages to accidentally glitch herself into the game, becoming an immediate sensation. Instead of getting in trouble for hacking, the game's creator Hideo Tanaka instead offers Emika the chance to become his spy in the tournament to uncover a security problem threatening his game. I really enjoyed this book, although I unfortunately did not care for the sequel as much.
Organization queen: How do you organize your books?
Aside from the competitiveness, the first thing that stood out to me about Monica when I first watched the show was her obsessive tendencies about cleaning and organizing her apartment! I'm definitely nowhere near her level, although I do like things to be organized. Currently, my books are not organized very well because I'm waiting to get some new bookshelves. They are in stacks on the floor that are mostly organized into piles by the order I got them, although they've been rearranged a bit recently to put the ones that I'm planning to read soon closer to the top/front so they are easier to get.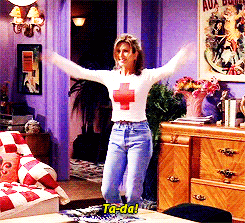 Rachel
A book you read for the hype
To be honest, I've always found Rachel a bit overhyped. I loved how she was introduced as a spoiled princess learning to be on her own for the first time, but in the later seasons, I found her kind of annoying. By now, there are many books that I read for the hype because I'm starting to learn that sometimes, these books are hyped for good reason! After years of actively avoiding anything that felt overhyped, I decided to try some of these books and see for myself. I think the best example of this one is The Seven Husbands of Evelyn Hugo, which is a book that I didn't have a ton of interest in to begin with, and it ended up becoming one of my favourites. I usually don't really care for books that focus on celebrities or celebrity culture, but this one drew me in immediately and was definitely worth all the hype!
Shopping Addict: What makes you buy a book?
I buy books when it is something that I very strongly want to read, especially if it is by an author that I've read and enjoyed before. Brand new books can be very expensive, so I want to be fairly confident that I'm going to enjoy it. I also will buy a book that I've already read and enjoyed, and feel confident that I'd love to read again. When it comes to cheaper options like Book Outlet, I buy books when they are a good price and are things that I'm actively interested in reading among the books on my TBR.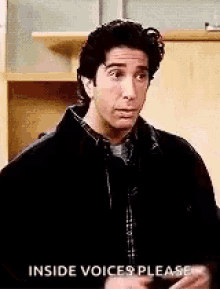 Ross:
A science fiction book
When I first started watching the show, especially when I was seeing the episodes in a random order, Ross was one of my favourite characters. I think I saw him as the "normal" one of the group, but that changed quite a bit when I watched the entire series in the proper order. I definitely don't hate Ross as much as a lot of other Friends fans seem to, but I don't know if I'd consider him a favourite anymore. I don't actually read a lot of sci-fi, but I do have one that I'm hoping to read very soon: Spare and Found Parts. It is about a girl named Nell who is the daughter of a famous scientist who creates biomechanical limbs for people who need them after an epidemic devastates their city. Nell herself has a mechanical heart, and while salvaging for parts, she finds a mannequin hand which inspires her to build herself a companion. This sounds like such an interesting story!
On a break: Which books have you put down only to pick up later?
Actually, I think the whole "We were on a break!" situation on Friends was one of the things that put me off Ross as a character. I actually don't DNF books or put them down and move on to other books before coming back to them. I'd find it too hard to remember what was happening to manage too many books at once. However, I have definitely put down series that I had in progress. I read the first book in Suzanne Young's The Program series, which I really enjoyed, but somehow never ended up getting back to. I also put down Beautiful Creatures after the first book since I kept hearing that the rest weren't really worth reading, although I'd be interested in seeing for myself. It's been years though, so I'd probably have to start them both from scratch by now.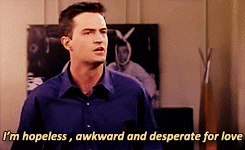 Chandler:
A book that made you laugh out loud
Chandler, on the other hand, was a character that really grew on me the more I watched the show. I didn't particularly care for him when I first saw the episodes, but the more I watched, the more I came to really like him, and especially his humour. For some reason, I'm having a really hard time thinking of a book that would literally make me laugh out loud, but what first came to mind was the Fowl Language comics. I don't even have kids, but I find these cartoons about parenting so funny! The artwork is adorable, and I love the way the books show both the good and the bad of raising kids in a very funny way. I used to love seeing these cartoons on Facebook or Instagram, so I was glad to see them collected into books! I've actually just seen that a new one was released in October, collecting them into chapters about topics such as sleep, toilet training, holidays, etc. From what I can tell, the newest book contains both new comics and some from previous collections, but I'm sure it will be just as much fun to read!
That time at Space Mountain: Are there any books you're embarrassed to admit you've read?
I don't think so. I don't know what would cause me to feel embarrassed to admit I'd read something.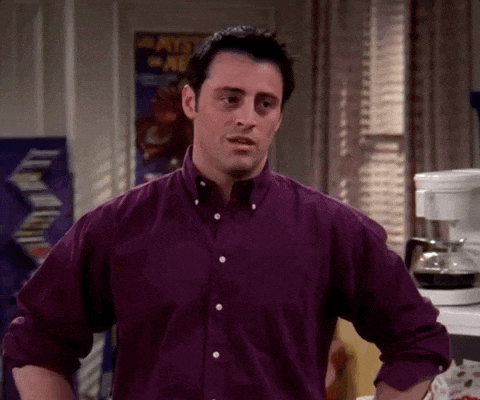 Joey:
A scary book you'd keep in the freezer
This was not the kind of question I expected for Joey! I thought it would have more to do with his flirting or possibly his loyalty to his friends. I didn't particularly care for Joey at first either, but he's another one who grew on me over time. I didn't quite go to the lengths of putting my books in the freezer, but I have actually hidden books that scared me so I wouldn't have to see them! At the time, they were children's books like The Ghost at Dawn's House from The Babysitters Club series or The Berenstain Bears and the Galloping Ghost, which both freaked me out as a kid. If I had to pick a book that I'd hide now (even though I don't own it), it would have to be Little Girls by Ronald Malfi. I feel like I bring this book up a lot considering it's been nearly 5 years since I read it, but it is by far one of the scariest things I've ever read! Let alone the contents, the cover alone would be enough reason for me to want to hide this one since it is so creepy-looking. This is one of the few horror books I've ever read and I was surprised to find that I loved it, even if it did really freak me out!
V is for Encyclopedia: As an adult, have you read any books with words you had to look up to understand?
Absolutely! I actually looked up a word ("tatterdemalion") just yesterday while reading one of Seanan McGuire's Wayward Children books. In many cases, I have an idea of what the word might mean just by the context, but I still tend to look it up to make sure I have it right.
Phoebe:
A book with a spiritual or supernatural theme:
Phoebe has always been my favourite character! She's just so much fun to watch and I love how she is not afraid to be herself or to stand out from the crowd. I have to go with Meddling Kids for this one! The book is kind of a play on the old Scooby Doo cartoons, featuring a group of teenage detectives who have now grown up and gone their separate ways. They have not seen each other since their final case in 1977, a case which has always bothered Andy. She sets out to reunite the team and reopen this case to finally put it to rest. It was a bit difficult at the beginning not to try and compare these characters and match them up with a Scooby-Doo counterpart, since they were not intended to be a straightforward match. I thought this book was so brilliantly done and it was a lot of fun to read. It definitely had a lot of supernatural elements to it!
The Boycott: Are there any authors, booksellers, or publishers you refuse to support?
None that I can think of. I tend to try and separate the creator from their work as much as possible, but I also don't usually know a ton about an author before I pick up their books, so I wouldn't necessarily know of any problems.
Janice:
A book with an "Oh my god!" twist
I feel kind of bad for Janice! Sure, she was kind of annoying but I also don't think she deserved for Chandler to treat her so badly either. I was originally going to pick The Silent Patient for this one, but I decided to go with I Let You Go instead because I think this book is so underrated! It is about a woman named Jenna who moves out to cottage on the Welsh coast to escape from her past, especially the one night that changed her life forever. That night. a young boy was walking home from school on a rainy day, and pulls away from his mother's hand for a brief moment to cross the street, where he is suddenly hit and killed by a car. This book definitely had a twist that I did not see coming! It is a bit of a slower start to the story, but picks up a lot once the twist happens, and it was so well done! I can't wait to try another one of Clare Mackintosh's thrillers.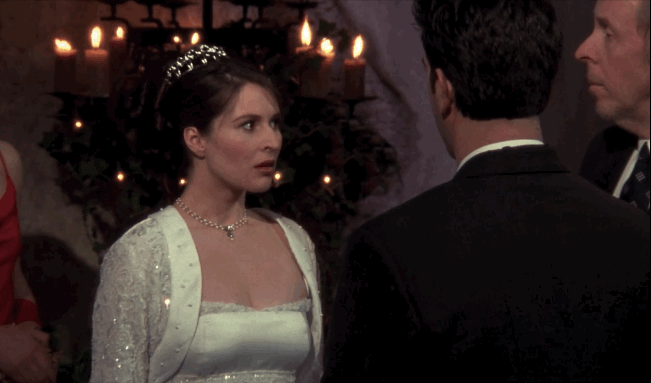 Emily:
A British classic:
Emily is another character that I thought got a bad reputation, a bit undeservedly! I didn't like the way she tried to control Ross and prevent him from speaking to Rachel, but I also understood where it was coming from. She and Ross seemed so cute together in the beginning! To be fair though, I also didn't particularly care for Ross and Rachel as a couple, so I'm sure that's a contributing factor. There are tons of British classics to choose from, but I decided to go with one of my favourites and pick Jane Eyre. This one became a favourite almost as soon as I picked it up, and I was surprised to find that I enjoyed it as much as Pride & Prejudice! I loved this book because Jane was such a fascinating main character and I admired her strength. I also loved the Gothic atmosphere of Thornfield Hall and the mystery around Mr. Rochester. I especially loved the banter between the two of them!
Gunther:
A book nobody seems to be talking about:
It's too bad that Gunther is one of those characters who tends to be easily forgotten, because he can be really funny! When I rewatched the entire series on Netflix, I realized that I'd completely forgotten about him! I'd say a book, and actually an author in general, that nobody seems to be talking about is Starfish by Akemi Dawn Bowman! Aside from the stunning cover art, this book was so well-written and it is a very strong representation of social anxiety. It is not an easy book to read given it's focus on abuse, but it is so well done. It's a shame that this author hasn't received more attention so far. Her second book, Summer Bird Blue, is just as strong and a very powerful portrayal of grief. Anyone who enjoyed The Astonishing Color of After would probably enjoy that one as well. Akemi Dawn Bowman has several more books already in the works, including a new YA contemporary due in March, and a YA and a middle grade series both due to start in 2021, so I'm hoping she will start to get a bit more notice.
Carol and Susan:
An LGBTQ+ book or author:
I actually think these two characters could have been utilized a lot more in the show, especially to give Ross a few more storylines involving his son. There are a lot of LGBTQ books that are currently on my radar to try next year. One that I keep hearing about lately is Tell Me How You Really Feel, which is about a wannabe director named Rachel and an overachiever named Sana. Rachel knows that Sana would be the perfect person to cast as the lead in her film project, but she has hated Sana ever the other girl asked her out, and Rachel assumed that it was just a cruel prank. I've heard such great things about this book, and I believe (someone feel free to correct me if I'm wrong) that it is also own voices. I feel like I've been seeing this book absolutely everywhere lately, so I'm looking forward to giving it a try. Hopefully I can fit it somewhere into my reading challenges for 2020!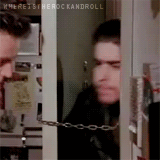 Eddie:
A book or character with intense/stalker vibes
I think Eddie would have to be one of my favourite minor characters from the show! I'd hate to have a roommate like him in real life, but his episodes were so funny! There's really only one book that I think of when it comes to stalker vibes, and that would have to be You by Caroline Kepnes. This book is about a man named Joe Goldberg who becomes obsessed with Guinevere Beck, a customer as the bookshop where he works, and decides to use her social media accounts to find out more about her, including where she will be so he can orchestrate a chance to meet her again. Joe starts to take control of Beck's life to persuade her that he is the perfect boyfriend, all while eliminating any obstacles in his path by whatever means necessary. I'd love to re-read this book because I don't think I enjoyed it as much at the time as I would if I tried it now. Unfortunately, the sequel was a huge letdown!
Mike:
A slow-burning book or a romance novel
Mike is another one of my favourite characters, and I thought that he and Phoebe were absolutely adorable together! At least, they were from what I remember of the show. I think I would have to say my favourite slow-burn romance is Kaz and Inej from the Six of Crows series. It is definitely not a romance novel, but their relationship is one of my favourites and the first thing that comes to mind when I think of a slow-burn. Even when it's obvious that they both have strong feelings for each other, it takes a long time for them both to let down their walls enough to allow someone else in, but even some very minor interactions between them are so much more powerful than other fully-developed relationships I've read. They are a huge part of why these books have become favourites, along with all the other romances in the series.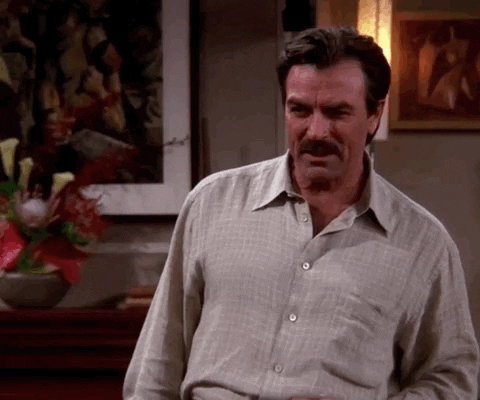 Richard:
A book that left you feeling accomplished or better educated:
As long as I don't think too hard about their age gap, I really liked Richard and Monica together! It's not so much the age actually, but more the fact that Richard was a friend of Monica's father's, and likely had known her as a young child. It just seems weird to me that he would even think of her as a potential partner like that. However, putting that aside, I really liked their relationship and Richard as a character in general. I think a book that left me feeling accomplished would have to be Kingdom of Ash! It was a huge goal of mine this year to finish the Throne of Glass series, and this book alone was nearly 1000 pages. I definitely could have done a better job at how I approached this series this year. I read several of the books in a row, to the point where I felt a bit burnt out on it, and then had a long gap between those books and the last two, which I read back-to-back. It was definitely a huge sense of accomplishment to finish this one! Aside from the fact that I loved it, it felt great to have finished the entire series, and especially to succeed at reading all of them (except for Throne of Glass, which I tried late last year just to make sure I really wanted to read the whole series) in one year!
Bonus Question: Which Friends character do you most identify with?
This is a really hard question! I don't identify very strongly with Joey or Rachel, so that eliminates two options right away. I love Phoebe as a character, but I don't think I'm very much like her. Like Ross, I'm also interested in learning and was sometimes seen as a bit of a know-it-all growing up. I think if I had to choose one, I'd probably pick Chandler since I have his kind of social awkwardness, but also a bit of Monica's obsessive tendencies (although definitely not her competitive streak!).