I think this was the first year where I really started to actively ask for books as gifts, and it's been great to get so many of the books I really wanted! I even recently got the latest Lisa Jewell book as a Secret Santa gift from my coworker, which was exactly the book I would have chosen if I could have asked them for one thing. I'm also always very happy to get gift cards to the bookstore so I can choose books for myself! I was surprised to look back at my lists from the previous two year (here and here) and see how many of those books I now have. Of the 10 that I put on my 2017 list, I now own 6 out of the 10 items listed but those were all books or series that I purchased for myself. Of the 10 that I listed last year, I own 7 out of the 10. Of those, only one duology was given to me as a gift, and all of the rest that I now own are books that I bought for myself. Sometimes, I feel like I choose books for my gift wishlists that are books that I want but I wouldn't necessarily think to buy myself or that I'd be a bit hesitant to buy for myself. I don't think I'll be getting any more books as gifts any time soon, but these are the ones that I'd probably ask for next!
Top Ten Tuesday was created by The Broke and the Bookish in June of 2010 and was moved to That Artsy Reader Girl in January of 2018. It was born of a love of lists, a love of books, and a desire to bring bookish friends together.
1) The Nevernight Chronicles by Jay Kristoff
This is one of my top priority series for the year, so I'd love to have my own copies of them! The only series I've read so far that Jay Kristoff has been involved with is The Illuminae Files, which I absolutely loved! This one is very different and to be honest, I've heard some mixed things about it, but I think I'm going to end up loving it. It is about an apprenticed-assassin named Mia who is seeking vengeance against the people who destroyed her family. I actually don't know a ton about the series, aside from the fact that it seems to be the kind of thing that people either absolutely adore or DNF. It reminds me vaguely of Throne of Glass, which I ended up loving, although I don't think they are actually that similar. I'm very curious to try more of Jay Kristoff's writing, and since I already own books from his other series, I'd love to get this one as a gift, especially if I could get the whole set together.
2) The Shades of Magic Collector's Edition by V.E. Schwab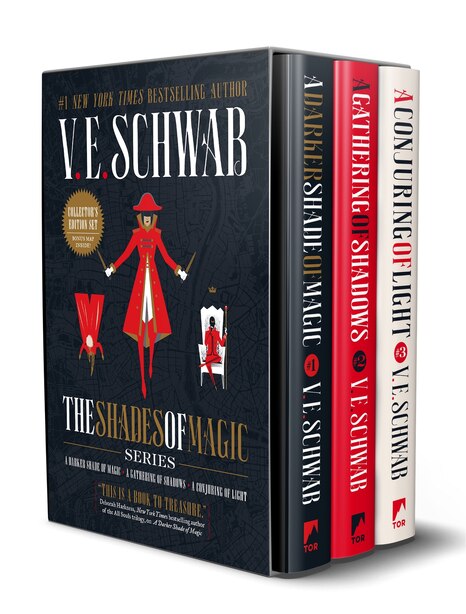 Victoria or V.E. Schwab has quickly become one of my favourite authors, and I'm very interested in collecting all of her books. So far, I have her Monsters of Verity duology and I got Vicious and Vengeful for my birthday this year, so this series is next on my list. I was especially intrigued to see that there was a new Collector's Edition of the series that recently came out. Normally, I don't care that much about Collector's Editions, but I do want to get this series as hardcovers and this seems to be the easiest way to do so. As far as I know, this version of the series includes bonus content like fan art and the extremely vaguely worded "exciting bonus material." It bugs me a bit when there are edition-exclusives like this, often because I either own the series by the time the bonuses exist or they are too expensive, but since this is a series that I don't have yet, I'd love to get this version as a gift so I can have the additional content too.
3) Serpent & Dove by Shelby Mahurin
I've been hearing so much about this book lately that it's jumped straight to the top of my list for next year. This book is the start of a new YA fantasy series about a witch who is forced into a marriage with a man who is a witch hunter, and who does not know that his new wife is a witch herself. This book sounds like so much fun to read! I think I actually did have it on my birthday wishlist, but it wasn't one of the books that my friends or family chose. I generally love to read books that have to do with witches in just about any capacity, so I'm especially excited for this one. I'm also very intrigued by the whole forced marriage aspect because I'm curious to see what the circumstances surrounding it were. I'm always a tiny bit hesitant to buy YA fantasy books that I haven't read yet since they can be a bit hit-or-miss, but I'd definitely be happy to get it as a gift.
4) The Beautiful by Renee Ahdieh
Again, this is a book that I think I'd put on my birthday wishlist, and also one that I'm not sure I'd be a little hesitant to buy for myself without reading first. I've never read anything of Renee Ahdieh's, although all of her series so far interest me a lot. This book is her most recent release, which is a YA fantasy book involving vampires, although strangely enough, I've heard quite a few reviews comment that there are surprisingly few vampires for a book that is supposed to be about them. My first instinct always seems to be that I'm not that into vampire stories in general, but they are actually one of my favourite paranormal creatures to read about because I love all the lore that comes along with them. I also think it's about time to have more vampire books apart from Twilight or Vampire Academy, and this seems like it could be a great place to start. I'm definitely intrigued by this one, especially with a sequel already due out in 2020.
5) Carry On and Wayward Son by Rainbow Rowell
Carry On was on my 2017 list for this same topic, and I still don't have a copy of it! At the very least, I read it for the first time earlier this year, and I'm planning to read Wayward Son next year too. I really liked Carry On, although it did take me some time to really separate it in my mind from Harry Potter and not view it as a re-hash (or fanfiction version) of the same story. Once I got past that though, I ended up really enjoying it and loving the characters, and I'm excited to read more about them. Wayward Son came out just a couple of months ago, and I'm already looking forward to trying it next year. I'd be very happy to get either of these books as a gift, or ideally both!
6) The Shatter Me series by Tahereh Mafi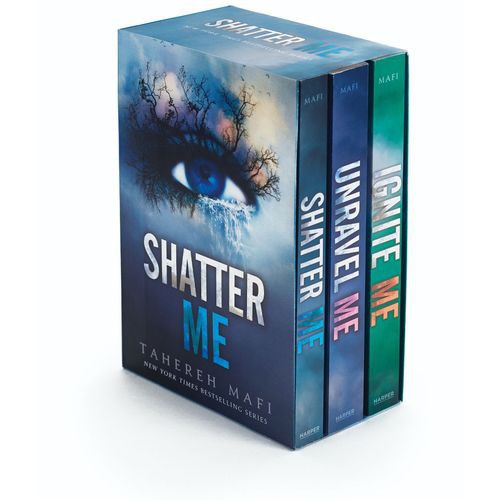 This would be an extremely generous gift, since I want all of the books, including the novellas, and ideally all in hardcover. I don't even know if hardcover editions of the novellas even exist! I read the first three books, but stupidly made the decision to spread them out over three years even though all of them had been released by the time I started the series. I've made it a goal for 2020 to re-read the first three, so I can read the second half of the series that has since been released. I really enjoyed the first three books when I read them, but definitely wished that I'd read them closer together so I could remember the details of the story better. I'd love to get this whole series as a gift so I could get started on reading it as soon as possible! If anyone has read the novellas, please let me know how essential they are to the story. I've read some series where the between-the-numbers books were just extras, but also some where not reading them meant missing out on important scenes.
7) The Grisha trilogy by Leigh Bardugo
I was very late to the party with this one! I'd been hearing about it for quite a while but ultimately ended up reading it because I thought it would be good to read before the Six of Crows books. Even though it's not absolutely essential to have read these first, I definitely found it very helpful. This is another series that I'd love to get as a hardcover boxset, or just individual hardcovers, but I'm not sure if those exist or at least not anymore. I could have sworn the versions I got from the library were hardcover, but I've only been able to find paperbacks for sale. These are the only Leigh Bardugo books that I don't own yet, aside from the Language of Thorns and her Wonder Woman book, and she is another one who is becoming one of my favourite authors. I really enjoyed this trilogy, and think I probably would have loved it even more if I had read it when it first came out. I'd love to have my own copies to finish off my collection!
8) The Arc of the Scythe series by Neal Shusterman
This is another case where I'd love to get these as a gift, but I'm not sure if I'd buy them for myself yet. I have not read any of the books in this series yet, but they are a high priority for next year. I've heard some amazing reviews for the series, and actually for Neal Shusterman in general. The only thing of his I've read so far was a short story in Violent Ends, a collaborative book about a school shooting told from 17 different authors narrating 17 different perspectives. Neal Shusterman's chapter, written with his son, was narrated from the perspective of the shooter's gun, and it wasn't really for me even though I think it was written well. I'm curious to see this series after hearing so many great things about it and because it is such an intriguing concept. It definitely seems like a unique take on a dystopian, and I'm very interested to see how that plays out.
9) The Guinevere Deception by Kiersten White
This book didn't quite make it onto my birthday wishlist since it came out shortly after, but I'm really looking forward to trying it. I've loved everything that I've read by Kiersten White so far, although I don't have any interest in trying her older paranormal series. This book is the first in a new trilogy inspired by the legend of King Arthur. So far, one of the biggest strengths of Kiersten White's books for me has been her compelling characters, and I hope that this one will be no exception. This book focuses on Guinevere, who has been sent to marry King Arthur, but this princess might not be what she seems. I read The Once and Future King a few years ago now, so I may need to brush up on my knowledge of Arthurian legends before I pick this one up, but it sounds so interesting. I'd love to get this one as a gift and keep up my streak of excellent Kiersten White books!
10) Loki: Where Mischief Lies by Mackenzi Lee
This is another one that I'm not sure I'd buy for myself, but I'd love to get as a gift. To be honest, I was a bit disappointed when I read my first Mackenzi Lee book, This Monstrous Thing. I expected to absolutely adore it, but I found the characters a bit underdeveloped. I still rated it 4 stars so it wasn't a bad book by any means, but I'd expected more. Luckily, I absolutely loved The Gentleman's Guide to Vice & Virtue, which convinced me to keep giving Mackenzi Lee's books a chance. This book is her most recent release, which gives a backstory to Loki and how he grew to be the "villain" that he is now. Loki is one of my favourite characters in the Marvel universe, although I'm not as familiar with the original Norse mythology behind his character. I'm very interested to see what Mackenzi Lee does with this story, and I'd be very excited to get this one as a gift.