It's hard enough trying to find green book covers, but being limited even further to just emerald ones was even more of a challenge! I have nearly 150 pages on my Goodreads TBR, and struggled to find even a handful of green covers. It's too bad we weren't asked for blue, since there are tons of those! To be honest, I wasn't too strict about the qualification that the covers had to be emerald green, mostly because I couldn't get a straight answer about what emerald looks like. Even looking it up online, my first image search showed me 4 very different shades that were all labelled emerald. I went with what seemed closest to me, so hopefully all or at least most of these are emerald!
Top 5 Wednesday is a meme created by Gingerreadslainey on Youtube, and is now hosted by Sam at ThoughtsOnTomes. The official GoodReads group with the weekly topics can be found here.
1) Forest of a Thousand Lanterns by Julie C. Dao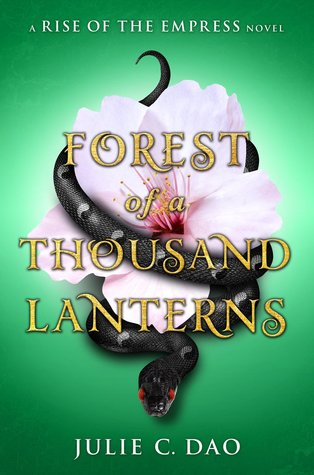 I heard quite a bit about this book when it first came out, but surprisingly not very much since then, especially since a sequel is already out, with another book due this November. This book is about an 18-year-old girl named Xifeng who grew up as a peasant, but may be destined to be Empress if she willing to use the dark magical powers she has in order to get there. There was a lot of hype surrounding this one for being an East Asia-inspired fantasy book, but the reviews since then have been a bit more mixed. I find it interesting how so many of the reviews describe it as a darker fantasy book with an unlikable main character, which reminds me a bit of And I Darken. I've recently finished and really enjoyed that series, so this one may be worth a try too. I'm always up for a good anti-hero book, and this one sounds like it might be along those lines. I do find it a bit odd that so many of the reviewers I follow who loved the first book either didn't enjoy or didn't read the sequel, but I guess I will have to try this one at some point and see for myself.
2) Not Your Villain by C.B. Lee
I'm not 100% sure if any of the greens on this cover count as emerald, but it was definitely one of the most green covers on my TBR. I read Not Your Sidekick last year after seeing one of my favourite vloggers, CeCe from ProblemsOfABookNerd, raving about it and I really enjoyed it. That book was about a teenager named Jess Tran who is struggling to accept the fact that she may not have superpowers like the rest of her family, and begins an internship that turns out to be for one of the city's most famous villains. This book focuses on Bells, who is transgender and also a shapeshifter, working with his friends (including Jess) to find the Resistance. Bells was a great character in Not Your Sidekick and I'm excited to read a book from this perspective. I found the first book in this series a tiny bit too predictable, but it was a lot of fun to read and I'm very interested in continuing with the series, even though it is not in my immediate plans.
3) Truly, Wildly, Deeply by Jenny McLachlan
I have no memory of adding this to my TBR, but it still sounds very interesting. This book is about a girl named Annie who has cerebral palsy, and who is excited to be starting college where she will finally have some freedom. She meets a boy named Fab, who is immediately drawn to her and decides she will be his girl even though the last thing Annie wants is to give up her independence. It's rare to see a YA book take on characters who have a disability like CP, so that alone was enough to draw me to this book. I'm not always very interested in YA books where the romance is the main focus, but this one just sounds adorable and I like how it is coming at it from a slightly different angle by including the disability representation as well (which I hope they do well!). It sounds like a book that will be a lot of fun to read, and I'd love to give it a chance at some point, although I wouldn't say it is particularly high on my list.
4) A Crown of Wishes by Roshani Chokshi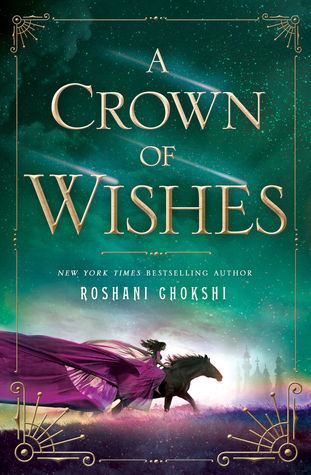 It's a little embarrassing that I haven't read this duology yet, especially considering that I've been interested in it for years. The Star-Touched Queen is about a girl named Maya whose world is torn apart when her father arranges for her to be married for political reasons, making her the Queen of Akaran. To be honest, I don't know very much about the storyline of this series, but I have seen quite mixed reviews for both books, which is probably why it has taken me so long to consider picking them up. What's even more confusing is that I've also seen this book referred to as more of a companion novel than a sequel, and you don't need to read The Star-Touched Queen in order to read this one. If anyone has read these books, please clarify! In any case, I chose it for this list because of the beautiful cover and it was one of the few books that I thought was really emerald green. I was first drawn to these books in general because of the beautiful cover art, but the mixed reviews always put me off a bit whenever I considered picking it up.
5) The Names They Gave Us by Emery Lord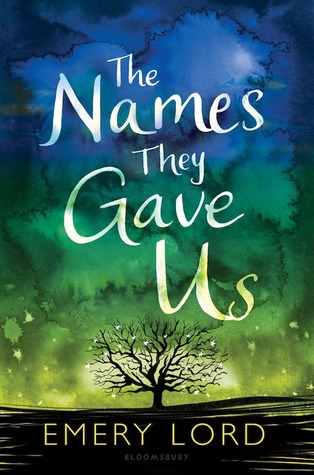 I'm cheating a bit with this one since only a section of the cover is green (possibly emerald?), but I think it still counts. This book is about a teenager named Lucy whose mother's cancer has recently come back, causing her to separate herself from all the constants in her life. Lucy takes a job working at a camp for children who are going through a hard time, where she feels overwhelmed and just wants to be back home with her family, until she starts to bond with her coworkers. While at camp, Lucy discovers a secret that suggest there is more to her family and her faith than she realized. I'm not generally a fan of books where religion/faith are a major theme, but this one sounds very interesting. I've read When We Collided by this author, which I liked but didn't love, and I also adored Emery Lord's contribution to Meet Cute. I have many of her books on my TBR, but this is the one that interests me most. To be honest, it was the stunning cover that first drew me to this book too, but I think it will be worth a try.