I kept going back and forth about whether I was going to do this month's recommendations prompt at all, because I had a really hard time wrapping my head around it. In general, I would say that the genres I read most often are thrillers, YA contemporary, and YA fantasy. It was a real challenge for me to try to think of genres that I like but don't read very often, and that I had books to recommend which I haven't already talked about to death. There are very few genres that I don't read at all. I don't like Westerns, and I'm a huge coward when it comes to horror. Other than that, I think I read a little bit of everything. If I had to pick a couple of genres that I don't read too often, it would probably be historical fiction and sci-fi. I actually tend to really enjoy historical fiction, but I need to be in the right mood for it. Sci-fi is a genre that I don't pick up very often but I tend to enjoy the books that I do read. I also found that I rarely read books that are just mystery. If anything, I read a lot of mystery-thrillers, and it's sometimes really hard to separate out which books belong to each of those genres separately. Since this is the genre that I feel like I've discussed the least, I decided to go with recommendations for a few mysteries that I've really enjoyed. As much as I tried to avoid books that I've discussed many times, I think these are all books that I've mentioned before, but they are definitely worth the attention!
Monthly Recommendations is a Goodreads group created by Kayla Rayne and Trina from Between Chapters. Monthly topics can be found on the Goodreads page here. 
1) And Then There Were None by Agatha Christie
Let's get the obvious one out of the way first — this was the first Agatha Christie book I've ever read, and I was completely blown away by this mystery! I've read a few others over the past couple of years, and I'm currently in the middle of Murder at the Vicarage, but so far none of them have topped this one. This book is about a group of ten people who are invited to a private island by an eccentric millionaire, who is nowhere to be found once they arrive. Each guest has a secret that they are hiding, and over time, they begin to die one by one. The group tries to work together to figure out which one of them is the killer. I found this mystery completely fascinating and I devoured the entire thing in one day. It was an ingenious case that kept me guessing right up until the end. It was a bit tricky to keep track of all the characters at first because there were several introduced in very rapid succession, but once the mystery really got going, I was hooked. It's been almost three years since I've read this, and it is still one of the best mysteries I've ever read. It is definitely a classic for a reason.
2) The Curious Incident of the Dog in the Night-Time by Mark Haddon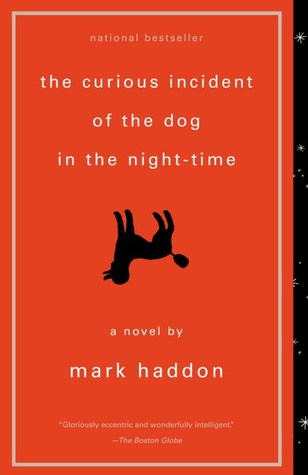 I'm actually surprised that I haven't talked about this book more, since it is one of my favourites! I've read it twice, seen the play, and even went to a local movie theater when they broadcasted a version of the stage play. This book is about a boy named Christopher who seems to be on the autism spectrum although it is never stated in the text. Christopher is extremely logical and rigid in his routines, and he has a lot of difficulty with social situations. He is also extremely logical and has an excellent memory. The book focuses on his investigations after he discovers that his neighbour's dog has been killed, and sets out on his own to solve the mystery. I thought this book had an incredible story and Christopher was a very interesting main character to follow. The mystery is a key part of the story, but there is also a lot more depth and content to it, especially around Christopher's family and how he relates to the people around him. I love this book, and I would highly recommend it! For what it's worth, I would also highly recommend the stage version of this book since it is amazing to see the character brought to life.
3) The Thirteenth Tale by Diane Setterfield
In some ways, I have a hard time thinking of this book as a mystery even though it really is one. This is another book that drew me in as soon as I read it, and kept me hooked from the first pages. It is about a woman named Margaret who is hired by an old and ill author, Vida Winter, to write her biography. Vida Winter was known for a mysterious book that was missing a chapter, and Margaret hopes to uncover what happened to those missing pages. I think anyone who enjoyed The Seven Husbands of Evelyn Hugo would enjoy this one, since both share the same basic premise of a younger woman learning about the life of an older woman, sharing their story for the first time. This book is so atmospheric, and reminds me quite a bit of Jane Eyre. I love the way the author had us learning about Vida's life alongside Margaret, and it was such an intriguing story. The other thing I really loved about this book was the emphasis it placed on the love of books, especially through Margaret, who grew up in her father's rare bookshop. This book is so beautifully written, and I think there is a good reason that it immediately became one of my favourites.
4) Big Little Lies by Liane Moriarty
I'm noticing a pattern here that all of the best mysteries I've read are books that I've read more than 2 or 3 years ago. I read this one back in 2015, as part of my first ever reading challenge, and it has also become one of my favourite books. The book centers on the death of a character at a school trivia night. Several mothers of kindergarten students seem to be suspiciously connected to the death. I think this was one of the first books that I'd read which had to do primarily with "playground politics" and the character dynamics were what really made this book work for me. It focuses on three women: Madeline, a stay-at-home divorced mom whose child is in class with her ex's child with his new wife; Celeste, the young wife of a businessman who gave up her life as a lawyer to be a full-time mom to her twins; and Jane, a young single mother who is new in town and looking for a fresh start. This was a completely fascinating mystery that kept me guessing right up until the end. I love books that have a strong focus on characters, and this one was excellent. It is still the strongest Liane Moriarty book that I've read, and definitely the first one of hers that I would recommend.
5) Monday's Not Coming by Tiffany D. Jackson
I think YA Mystery is a genre that I read even less frequently than mysteries in general, however I read one last year that really stood out. This book is a 2018 release that focuses on a young teenage girl named Claudia whose best friend Monday has suddenly gone missing just before they are due to start school. Claudia knows that something must be wrong to prevent Monday from coming to school, but Monday's family and Claudia's parents insist that she needs to leave it alone. The book jumps back and forth in time, and although I've seen many reviewers complain that it became confusing, I never had a problem with the timeline. Chapters are labelled with titles like "The Before," "The After," or "Three Weeks Before The Before." It seems a bit confusing at first, but it actually makes a lot more sense as you read it. I was surprised by how much this book drew me in especially because Claudia was a much younger narrator, at only 14, than I usually can relate to. Even though I was not particularly surprised by the reveal, I found the book completely engaging and I devoured the whole thing very quickly. It is definitely one of the most interesting YA mysteries I've read, and I think it also touches on several very important topics.